ACTIVISTS REBUILD E1 PROTEST CAMP FOR 9TH TIME AFTER ISRAELI ARMY RAID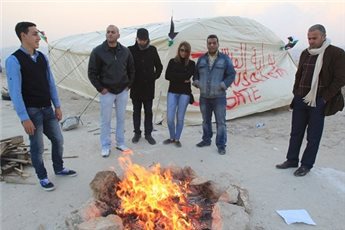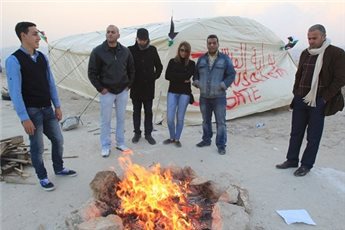 Al-Quds (Occupied Jerusalem), 29 Rabi'ul Akhir 1436/19 February 2015 (MINA) – Palestinian activists rebuilt the Gateway to Jerusalem protest camp in the central West Bank on Wednesday for the ninth time in just over two weeks following another raid and demolition by the Israeli military, local activists said.
Activists said they will insist on remaining on the land in the Khallet al-Raheb area near Abu Dis despite the constant demolitions, repression, and detentions by Israeli forces in order to prevent Israeli plans to displace thousands of Palestinian Bedouin families from their homes.
Spokesperson for the local popular resistance committees, Hani Halabiya, told Ma'an that activists set up the tents in the protest camp as soon as Israeli bulldozers left Wednesday afternoon, Ma'an News Agency quoted by Mi'raj Islamic News Agency (MINA) as reporting.
He said that Israeli forces had raided the area as the activists rebuilt, surrounding the camp and taking pictures of activists as they were setting the tents up.
Halabiya added that activists will remain in the Gateway to Jerusalem ("Bawwabat al-Quds") protest camp until Israeli plans to displace Palestinian Bedouins are cancelled, calling upon Palestinians and activists to join the protests in the camp.
Activists said that the "plan to displace Bedouins is a demographic bomb that Israel is using to empty Palestinian lands of its original residents, steal their properties, and the rights to return to the original villages that they were displaced from."
Palestinian Bedouins in the West Bank are largely composed of refugees of Israel's 1948 ethnic cleansing of 750,000 Palestinians, with the majority having fled the Negev Desert while the few who remained — about 10 percent of the total Bedouin population — were confined to reservations.
The Gateway to Jerusalem camp was set up by Palestinian and foreign solidarity activists to protest Israeli plans to displace Palestinian Bedouin families from their dwellings in the corridor known as E1, between Jerusalem and Jericho.
Last summer, Israeli authorities in the occupied West Bank released a series of plans that would concentrate Bedouins in two places and destroy more than 20 of their current villages.
Rights groups slammed the plans, adding that the forcible transfer amounts to a massive land grab and an attempt by authorities to annex the crucial E1 area and effectively cut the West Bank in two.
A statement released in September co-signed by 42 Palestinian, international, and Israeli organizations said that the plans "include moving Bedouins out of the politically sensitive area referred to as the Jerusalem Periphery or 'E1,' where Israel has long-intended to demolish 23 Bedouin villages in order to expand and link settlements, established in violation of international law."
The majority of Bedouins in Israel and the West Bank live a relatively settled but still sometimes semi-nomadic lifestyle, residing in permanent villages but pasturing livestock in adjacent areas.
Israeli restrictions on movement — in order to build Jewish settlements on Palestinian lands previously used by Bedouins or through the construction of the Separation Wall to cut through the West Bank — have severely curtailed Bedouins' traditional nomadism. (T/P010/P3)
Mi'raj Islamic News Agency (MINA)