Action to Defend Al-Qur'an in Front of Swedish, Dutch and Danish Embassies in Jakarta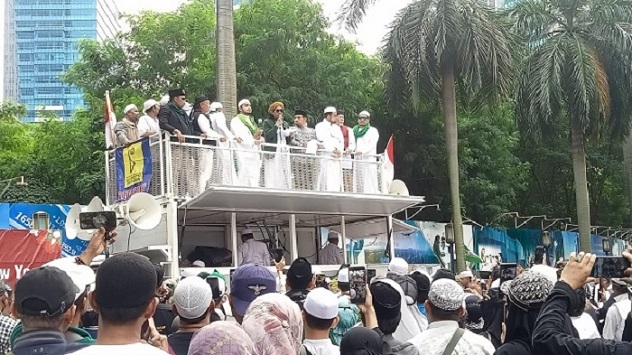 Action to Defend Al-Qur'an in Front of Swedish, Dutch and Danish Embassies in Jakarta (photo: Special)
Jakarta, MINA – Thousands of masses from various elements of the Muslim community held an Action to Defend Al-Qu'ran in front of the Swedish, Dutch and Danish Embassies in South Jakarta on Monday.
The action was held to protest the tearing and burning of the Quran by Rasmus Paludan, a Swedish-Danish national and Edwin Wagensveld from the Netherlands.
In this action, the Alumni Brotherhood (PA) 212, the Islamic Brotherhood Front (FPI) and the National Movement to Guard Fatwa (GNPF) Ulama issued a joint statement to address acts of blasphemy in Sweden, the Netherlands and Denmark.
The following is a statement from the Mass Action to Defend the Al-Qur'an;
First, Condemning and strongly condemning the heinous act of burning the copy Qur'an by Rasmus Paludan and Edwin Wagensveld
Second, we strongly condemn the attitude of the countries of Sweden, Denmark and the Netherlands which actually protect and facilitate extremist actions that hurt the hearts of Muslims throughout the world, and we call on the perpetrators of blasphemy to the holy Qur'an to be brought to justice immediately.
Third, demand that the Government of Indonesia, as a country that upholds the belief in the One and Only God, not only stop at mere criticism, but take more concrete political action by boycotting, breaking diplomatic relations and expelling the Ambassadors of Sweden, Denmark and the Netherlands, as countries facilitating and protecting blasphemy against the holy book Al-Qur'an;
Fourth, demand the countries that are members of the Organization of Islamic Cooperation (OIC) to take real action against Sweden, Denmark and the Netherlands by boycotting and severing diplomatic relations.
Fifth, calling on Muslims around the world to unite against blasphemy against the holy Qur'an by taking concrete actions such as boycotting the products of Sweden, Denmark and the Netherlands. (T/RE1)
Mi'raj News Agency (MINA)