A Palestinian Agricultural Engineer Produces Spirulina Algae in Gaza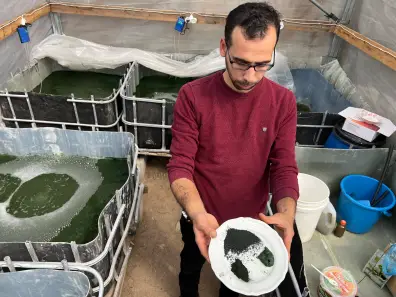 Palestinian agricultural engineer Abdul Qader Bakr has succeeded in producing spirulina algae in Gaza, Tuesday, 12 September 2023. (Photo: Mohammed Asad/MEMO)
Gaza, MINA – A Palestinian agricultural engineer named Abdul Qader Bakr has succeeded in producing spirulina algae in Gaza for the first time. This is quoted from MEMO on Tuesday.
Abdul Qader brought algae samples from abroad and was able to use mineral salts in his greenhouse to adapt to the climate, adjusting the amount of salt needed until he found the right solution composition to allow algae growth.
Spirulina is an edible blue-green algae known for its anti-inflammatory and antioxidant properties as it is rich in protein, vitamins, minerals and carotenoids which can help protect cells from damage. It is also used as a fertilizer to promote plant growth and improve animal immunity, thereby reducing medical costs.
The algae is extracted from the incubator with a special filter, followed by a process of washing, sterilization, drying and a thermal oven. Then it is sterilized again and ground into powder ready to be sold in the market or pharmacy.
"This project is supported by my university," Abdul Qader told MEMO, but it may become a commercial venture if there is the right support. "I hope this can be achieved considering the difficult economic conditions," he added. (T/RE1/P2)
Mi'raj News Agency (MINA)