80,000 DISPLACED FOLLOWING RUSSIAN STRIKES IN SYRIA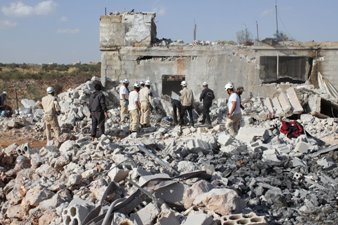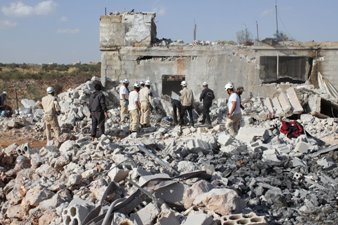 Damascus, 24 Dzulhijjah 1436/8 October 2015 (MINA) – Some 80,000 people have been displaced from the Syrian town of Kafr Nabudah in the Hama Governorate, northern Syria, as a result of the ongoing battles in the area between the Russian-backed Syrian regime forces and the opposition factions.
Mohammed Al-Masri, head of Kafr Nabudah's council, said that the breach of the truce on the Syrian regime's part has led to the displacement of 80,000 people, half of whom had already been displaced from nearby villages.
Al-Masri said that the Assad regime is backed by the Russian regime and its warplanes, and that he believed the regime is now able to control north Hama, a precedent that demonstrates the regime's treachery and non-compliance with the truce as a peaceful solution. He added that Assad's regime only understands the language of aggression. Middle East Monitor (MEMO) quoted by Mi'raj Islamic News Agency (MINA) as reporting.
He added that Russia is the Syrian people's enemy and the regime's partner in killing their children, and appealed to the free world to support Syria's women and children. He also called on all factions to stand up to the regime's brutality.
Syrian citizen, Abu Ahmed, said that he fled the regime's shelling of his city of Al-Lataminah two years ago and headed to Kafr Nabudah, but he can now sense the spirit of displacement looming once again.
Abu Ahmad said that Syrians only found olive groves for shelter after the town was shelled. He noted that the world has abandoned Syrians leaving them in the hands of Russians and Iranians.
Kafr Nanbuah's people reached a truce with the regime forces a year and three months ago. The truce stipulated that opposition forces would leave the town and it would not be bombed in return; however, the regime broke the truce three days ago.
Yesterday, opposition factions destroyed a large number of Syrian army weapons. Fighting is ongoing in the area. (T/P002/R03)
Mi'raj Islamic News Agency (MINA)