ABOUT 450 TRUCKS ENTER GAZA THROUGH KARIM ABU SALIM GATE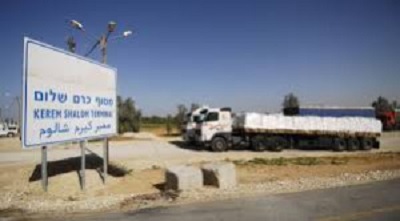 Gaza, 27 Dzulqa'dah 1435/22 September 2014 (MINA) – Munir Ghalban, Director of Karim Abu Salim border crossing said, Israeli occupation authorities allowed 450 trucks containing humanitarian aids to enter Gaza through Karim Abu Salim border, Sunday (21 september).
" The trucks contains gravel, cement, diesels and gas in limited quantities," said Ghalban.
Ghalban explained that there were improvements in the border. According to a ceasefire agreement, Israel should open borders after Israeli aggression on Gaza Strip ended on 26 august ago.
Karim Abu Salim is the only border that serve commercial needs for Gaza Strip. It operates five days a week. It closes on Friday and Saturday.
Gaza has at least five border crossings, four of the border crossings connect with Israel while one border crossing connect with Egypt. There were only three border crossings opened since start of blockade on Gaza. Egypt and Israel often closed the border crossings with various reasons.
The three border crossings are Rafah which connect with Egypt, Erez Bayt Hanoun border crossing for travelers in north of Gaza Strip and Karim Abu Salim border crossing for commercial traffic. Both border crossings connect Gaza with Israel. (L/K01/P009/P3)
Mi'raj Islamic News Agency (MINA)