YOUNG MUSLIMS STRADDLE TWO WORLDS IN FRANCE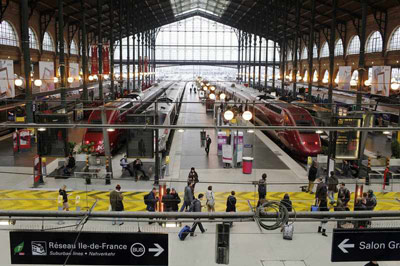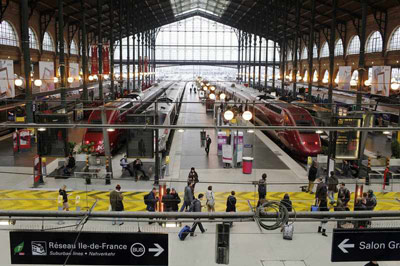 Paris, 15 Jumadil Awwal 1436/5 March 2015 (MINA) – In the French capital, the bustling Gare du Nord train station stands as a gate between two worlds in Paris, connecting the northern suburbs inhabited with immigrants to the glittering, rich and beautiful center of the capital.
"The thing about the Gare du Nord is that that's where you feel — the kids from the banlieue feel excluded," Andrew Hussey, a British historian who has written about the tensions between France and its black and Arab minorities, told NPR on Tuesday, March 4, On Islam quoted by Mi'raj Islamic News Agency (MINA) as reporting.
"They come here, and like it's a frontier zone between Paris over there — which is very well-heeled and very rich and very beautiful, and over there [the suburbs] — where they're sort of, you know, cast out into this world that's not quite connected to the center of France."
The poor suburban communities, known as banlieues, in Paris is home to nearly 40 percent of the country's 7 million Muslims.
The residents of these communities have felt increased scrutiny since three young Muslim men, each born and raised in France, killed 17 people in January's attacks on Charlie Hebdo.
Ismael Medjdoub is one of these "kids from the banlieue" who straddles these two worlds. The young Muslim, 21, is a third-generation Frenchman of Algerian descent who spends a lot of time on the subway getting to and from work and school, up to four hours every day, including Sunday.
Studying at the Sorbonne in Paris, he wanted to get an apartment in the city. But his he says his district number, like an American ZIP code, is hurting his chances.
His town, called Tremblay en France, is next to Paris Charles de Gaulle Airport, but that he knows people look down on those communities. "Every time that I say to someone I'm coming from suburbs, they have some pity for me that I cannot understand," he says.
He recalls an incident when he was studying history during his first year at the Sorbonne. Going to see his professor to apologize for a delay in turning in his schoolwork, he was surprised with the reply.
"He answered to me: 'Don't worry, you are coming from suburbs, so I know what you are feeling,'" Medjdoub says.
"And I was — 'What? I mean, come on guy, I am living in a big house with two cats! So you see it's not the image that you are making of suburbs.' "
Challenges
"Young people today claim to be more Muslim than they did during my time. We practiced an Islam that was much more … I can't find the exact word, but we practiced Islam privately, at home," Fatihah Medjdoub said.
"Today's generation practices an Islam that they seek to understand, and that can lead to prejudices against them."
Ismael agrees with his mother, and takes it one step further.
"Especially with the young generation — we are telling them that you are not able to wear the veil, and because they are denied in their identity, the only way they have to answer to the situation is not simply wearing a hijab (headscarf) but a niqab," he says, referring to an even more obscuring head covering that leaves only the eyes visible.
Despite these challenges, Ismael is adamant to stay in his country as a good Muslim French citizen. "The fact is that I'm French. I will never deny my nationality, and I am very proud of it."
"I'm just grateful to my country," he says, "and I want to contribute to make it better."
Seeing the Charlie Hebdo attack as a betrayal of Islamic faith, leaders from Muslim countries and organizations have joined worldwide condemnation of the attack, saying the attackers should not be associated with Islam.
Later on, French Muslims called for criminalizing insulting religions amid increasing anger around the Muslim world over Charlie Hebdo's decision to publish new cartoons of Prophet Muhammad. (T/P011/R04)
Mi'raj Islamic News Agency (MINA)