THOUSANDS OF INDONESIAN MUSLIMS STAND FOR PALESTINE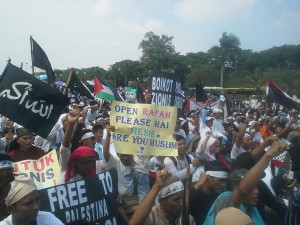 Jakarta, 15 Syawal 1435/11 Agustus 2014 (MINA) –  More than 1,000 Muslims from various cities in Indonesia gathered in front of the United States Embassy in Jakarta, demanding Israeli occupation regime to be immediately prosecuted in the International Criminal Court for its war crimes against Palestinians.
"Take them (Israeli Occupation Regime) to the International Criminal Court for their war crimes," said Arif Rahman, one of the orator of the rally followed by the shout "Allahu akbar" (God is Great) by the demonstratots.
Another speaker, Munif Nasir asked the Muslims wherever they are to stand in untiy in dealing with the Zionist occupation regime action in the land of Palestine.
"Gaza, Palestine, Al-Aqsa is the core struggle of the world Muslims, do not switch to another issues," shouted participants coming from across country.
The participants came from cities including Bekasi, Bogor, Banten, also Lampung, Sumatera, who attended  the peaceful march starting from National Monument (Monas)  finishing in front of the US Embassy at Medan Merdeka Selatan street, Jakarta.
Some participants raised banners saying, "Free Al-Aqsa from Zionist Israel," "Free Palestine", "Open blockade of Gaza", "Drag Israeli to international criminal court ", "Boycott Israeli Products", and so on.
Most participants waved Palestinian and Indonesian flags as well as black flag written "Allahu Akbar".
Field Coordinator of Aqsa Working Group (AWG) Jakarta, Abdul Malik said the peaceful  protest is a moral support and encouragement from Indonesian Muslims to Gazans and Palestinians.
Thousands of registered participants came from various elements, such as boarding schools, Muslim councils, Islamic schools, teachers and staffs, youth organisations, and from all age groups including the old men and women as well as children.(L/P03/E01)
Mi'raj Islamic News Agency (MINA)