South African MPs Turn Down Meeting with Israeli Group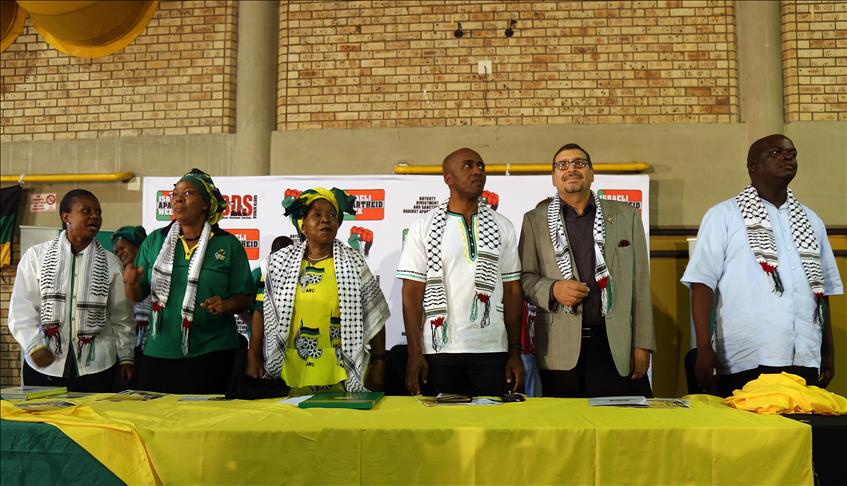 Parliament has stayed true to Nelson Mandela's commitment to stand by Palestinian cause, Nelson Mandela's grandson says
Johannesburg, South Africa, MINA – Parliamentarians from the ruling African National Congress (ANC) have turned down a request to meet a Israeli delegation, a party spokeswoman told Anadolu Agency Sunday.
"There was a planned visit by an Israeli delegation, but ANC MPs rejected it," ANC's parliamentary caucus spokeswoman Nonceba Mhlauli said via telephone.
She said the MPs decided the delegation should not visit the parliament and if it did, they would not participate in the meeting.
The ANC has the majority in parliament with 249 seats out of 400-seat assembly.
Mhlauli said she was not aware if the decision had been communicated to the Israeli delegation that was planning to visit this month.
Staying true to Nelson Mandela's commitment
Nelson Mandela's grandson, Mandla Mandela, also an ANC parliamentarian, commended his colleagues for turning down the request to meet the Israeli delegation.
"Parliament has stayed true to Nelson Mandela's commitment to stand by the Palestinian cause until Palestine is free,'' Mandla said in a statement.
He called on the ANC caucus in parliament to equally apply pressure the ANC-led government to send the Israeli ambassador out of the country, and recall its ambassador from Israel as well as cut all diplomatic and other ties.
"History calls upon us to take similar measures to those taken by freedom, justice and peace loving communities that supported the global anti-apartheid movement against the brutal and illegitimate South African regime," he said.
The Congress of South African Trade Unions (Cosatu) also welcomed the decision.
"Cosatu joins solidarity organizations, human rights bodies and other groups in welcoming the decision by the parliament of South Africa to turn down a request to meet with a visiting delegation from Israel," the group said in a statement. Majority of South Africans support the Palestinian cause because they believe what is happening to Palestinians is similar to what they went through during the apartheid era. (T/RS5/RS1)
Mi'raj Islamic News Agency (MINA)