Socialloka, Social Networking to Unite the Indonesian Community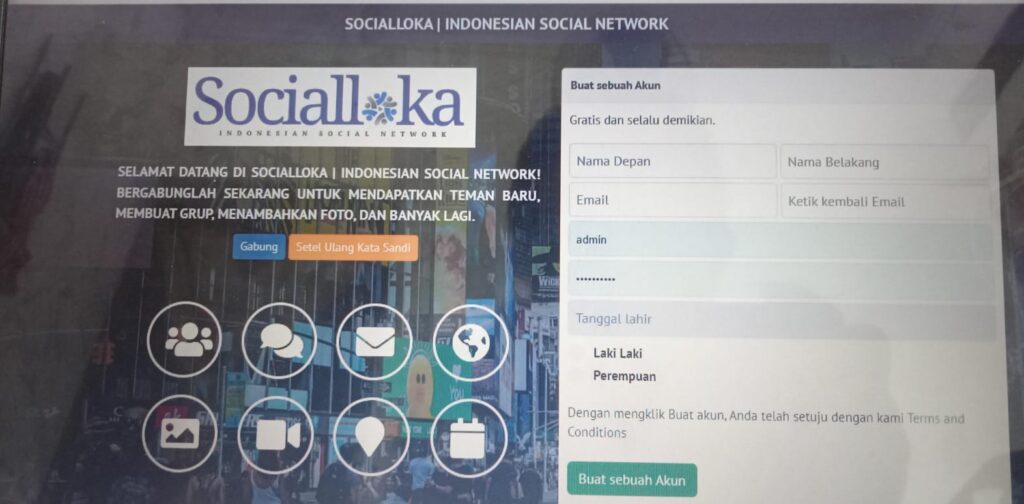 Jakarta, MINA – The world of social networking is once again energized by the emergence of an innovative platform that focuses on human connections specifically for the Indonesian community, both domestically and internationally, called Socialloka.com, a new social networking platform in Indonesia.
"Today, coinciding with the moment of the 78th Anniversary of the Republic of Indonesia's Independence and the digital nationalism spirit of Indonesia, with the saying Bismillahirrahmanirrahim, we announce the launch of Socialloka.com, an Indonesian local social networking platform aimed at connecting the Indonesian community both domestically and abroad in a more profound and meaningful way," said Marwan Azis, the Founder of Socilloka.com, in his press statement in Jakarta, Thursday.
Socialloka.com, founded by Marwan Azis, an experienced and visionary entrepreneur in the digital world, is also the founder of Terkini.com.
Marwan revealed that in the current digital era, social networking is one of the most popular platforms among people, especially in Indonesia. However, most of the existing social networking platforms come from abroad. "Therefore, we introduce Socialloka, a social networking platform specifically designed for the Indonesian market, with the hope that in the future, there will be a local social media platform that can be a host in its own country and even play on a global level," he said.
"Our target audience is the Indonesian community, especially those who are active in using social networking and desire a more local platform. We will also focus on the younger generation, as they are the most active users of social networking and tend to be open to new innovations," he added.
Marwan conveyed that according to a survey by the Association of Indonesian Internet Service Providers (APJII), the number of internet users in Indonesia reached 215.63 million people in the 2022-2023 period.
This number increased by 2.67% compared to the previous period, which had 210.03 million users. This number of internet users is equivalent to 78.19% of the total Indonesian population, which is 275.77 million people.
Meanwhile, the We Are Social report shows that the number of active social media users in Indonesia is 167 million people in January 2023. This number is equivalent to 60.4% of the domestic population. "So, the social media user market in Indonesia, including one of the largest in the world, unfortunately, is mostly dominated by foreign platforms. This is what prompted the birth of Socialloka.com, as a rooted and Indonesia-based social networking platform," he explained.
Marwan explained that Socialloka.com was born from the determination to build a platform that could embrace the entire Indonesian community, both domestically and internationally. "We want to provide a different social networking experience that focuses on the closeness and diversity present in Indonesia," said Marwan Azis, who is also the Founder of iMedia.co.id.
Marwan stated that Socialloka.com, a social networking platform rooted in Indonesia, aims to connect Indonesians all over the world. "We come with a vision to provide a different and innovative social media experience for users in the homeland as well as those abroad," he said.
In Socialloka, Marwan continued, it is believed that the power of social networking lies in building relationships, sharing stories, and celebrating our identity as Indonesians, no matter where we are. Socialloka offers various unique features such as photo sharing, posting statuses, articles, stories, chats, and groups that allow you to connect with friends and family, as well as discover new people with similar interests. Be a part of the passionate and inclusive global Indonesian community on Socialloka.com.
In Socialloka.com, you can use it as a local Indonesian social networking platform to share your joy with photos and stories. Share beautiful moments and unforgettable memories with family and friends on Socialloka. "Upload your photos and stories, add a touch of creativity, and let the world get to know you better. Start a new adventure and create unforgettable memories with us," he added.
"We understand how important it is to stay in touch with loved ones. Socialloka provides a private messaging feature that allows you to communicate directly with your friends, no matter where they are. Share stories, exchange news, and keep close relationships with those you love," he explained.
Chat Rooms and Interest-Based Groups
Marwan also revealed that the Socialloka.com platform provides chat rooms and interest-based groups to help you find new friends with the same hobbies and interests. Build genuine friendships and discover supporting communities on Socialloka.com.
The administrators of Socialloka.com prioritize user privacy and security. Socialloka implements strict privacy policies and uses the latest security technology to protect your personal information. "Join with a sense of security and confidence, because at Socialloka, you are our priority," he added.
Digital Nationalism Spirit
Marwan added that in the celebration of Indonesia's 79th Independence Anniversary, Socialloka.com understands the importance of unity and the national spirit in the digital world. The Socialloka.com platform opens doors for users to interact directly, share ideas, and strengthen intercitizen bonds, unburdened by geographical limitations.
Innovation
In the upcoming months, he continued, they are committed to continuously enriching the features and content on Socialloka.com. Anticipate various exciting innovations such as live streaming events, video sharing, polls, exciting contests, charitable campaigns, and a buying and selling feature that provides an extraordinary experience for every Socialloka.com user.
"So, what are you waiting for? Join Socialloka.com and let's together celebrate diversity, spread kindness, and foster everlasting friendships. Be a part of our unique social networking platform and help us make Socialloka.com a digital home for the entire Indonesian community worldwide," he concluded.(R/R1/RE1)
Mi'raj News Agency (MINA)