US SENATOR THREATENS AID CUT TO PALESTINE OVER ICC MOVE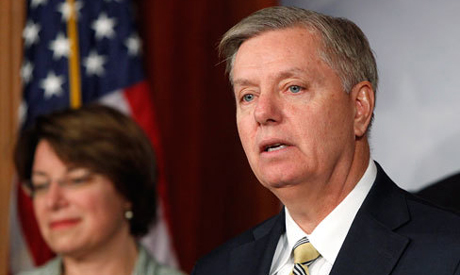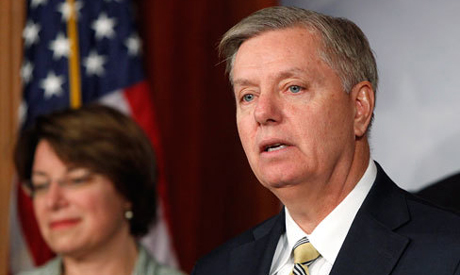 Washington, 1 Rabi'ul Akhir 1436/January 22, 2015 (MINA) – A senior US Republican senator said on Monday Palestine could lose annual US aid if they file a lawsuit against Israel at the International Criminal Court which they joined this month over American and Israeli protests.
Lindsey Graham, part of a seven-member delegation of senators visiting Israel, Saudi Arabia and Qatar, said existing US legislation "would cut off aid to the Palestinians if they filed a complaint" against Israel, Ahram quoted by Mi'raj Islamic News Agency (MINA) as reporting.
At a news conference in Jerusalem, Graham called the Palestinian step "a bastardising of the role of the ICC. I find it incredibly offensive."
"We will push back strongly to register our displeasure. It is already part of our law that would require us to stop funding if they actually bring a case," said Graham, of South Carolina.
US President Barack Obama's Democratic administration has said it does not believe Palestine is a sovereign state and therefore does not qualify to be part of the ICC, but has not explicitly threatened to withhold aid.
Any cut in US funds could make it hard for the Palestinian self-rule authority in the West Bank and Gaza to survive. The US supplies more than $400 million annually to the Palestinian Authority. Israel has frozen a monthly transfer of some $120 million in tax revenues it collects for Palestine.
United Nations Secretary-General Ban Ki-moon has confirmed Palestine will formally become a member of the ICC on April 1, after applying earlier this month.
With jurisdiction dating back to June 13, 2014, the court's prosecutor could investigate the 50-day war between Israel and Hamas resistance in the Gaza Strip in July and August 2014, during which more than 2,100 Palestinians, 67 Israeli soldiers and six civilians in Israel were killed.
Palestinian President Mahmoud Abbas applied to the court after losing a vote at the UN Security Council seeking a deadline for an Israeli withdrawal from land it captured in a 1967 war and where Palestinians seek to establish a state.
Israel and the United States deplore Palestine moves at the UN as unilateral steps that undermine diplomacy, which has made little progress in years and collapsed most recently in April.
Graham urged Palestine to re-evaluate ICC membership, saying he supported their aspirations for statehood but opposed joining the court as a "provocative step" against Israel.
Senator John McCain, chairman of the Armed Services Committee, charged that a US-led campaign against militants in Syria and Iraq was moving too slowly, arguing that aerial attacks had to be backed up by "more boots on the ground." He did not say which country should provide the troops.(T/R04/P3)
Mi'raj Islamic News Agency (MINA)