Saki Takao, Japanese Teacher Shares Her Inspirational Journey Discover Islam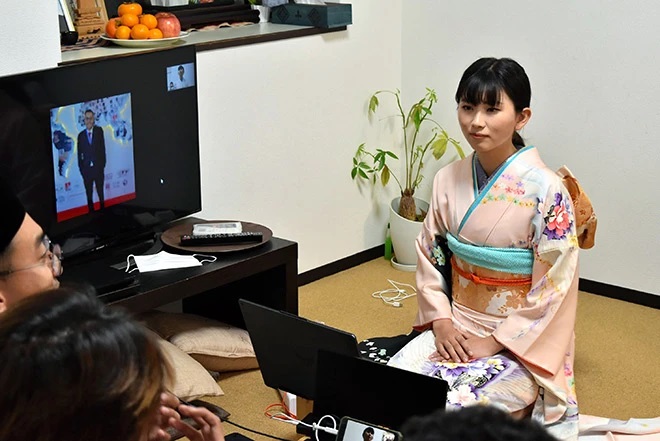 Saki Takao decides to convert to Islam. (Photo: AboutIslam)
Wearing a pink kimono, Saki Takao celebrated her 26th birthday by making the biggest decision of her life and becoming a Muslim.
Surrounded by 15 family members and friends, she recited the Arabic text of the Shahada on his mobile phone: "I testify that there is no God but Allah, and I testify that Propeth Muhammad is the messenger of Allah," The Asahi Shimbun reports.
Despite the simple celebration, the high school teacher's path to becoming a Muslim last November was not easy.
Born and raised in Japan, Takao attended Osaka Jogakuin University. She met the first Muslim in her life, a man from Turkmenistan, in Taiwan, during her junior year.
Conversing in English on many occasions, they developed a close relationship which ended abruptly when she realized the man is a Muslim.
Returning to Japan to study international affairs, the embarrassment of his treatment of a close friend just because zhe is a Muslim begins to eat away at her.
Two years later, in the summer of 2019, she embarked on a "solo journey to meet Muslims" that took him to countries such as Turkey and Indonesia.
Takao meets many good people along the way, who eventually want to learn more about Islam and Muslims.
After graduating, Takao started working as an English teacher at a high school in Osaka. Talking about Islam in her class, she learned that his students associated religion with "terrorism."
"The negative impressions of some people seem to overshadow the others. The students are like I used to be," she said.
In order to find out more about his religion, Takao starts visiting mosques in her neighborhood to learn more about the religion. She tried halal food and even participated in fasting in Ramadan.
Making the decision to become a Muslim, Takao tells the news to his family. Her mother said she "didn't like the idea", while her father warned her daughter about the "negative sides" after her conversion.
"But if you are ready for that to happen, all you need to do is think about the problem after you have accepted the doctrine," he said.
Having contracted COVID-19, she felt that this was not the right time to say the shahada. However, she then meets her fiancé, a Malaysian Muslim man who drives the anxiety out of her mind.
On his 26th birthday, Takao recites the Shahada.
"This strange feeling maybe just because I just converted to Islam. I want to always remember that feeling from this moment onwards for the rest of my religious path," she said.
"Living in Japanese society is also not without difficulties. I can flee to the Islamic world if I find them unbearable, now I have two societies open to me," she added.
According to Tanada Hirofumi of Waseda University, the number of Muslims in Japan has more than doubled in the last 10 years.
In 2010, statistics show the number of Muslim worshipers in Japan reached 110,000. By the end of 2019, the number had increased to 230,000 (including as many as 50,000 Japanese converts). (T/RE1)
Source: AboutIslam
Mi'raj News Agency (MINA)