Rights Violation Cases in Papua to Be Settled Definitively, Chief Minister Says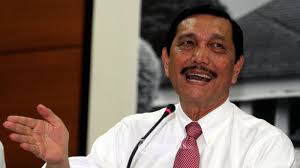 Jakarta, 11 Ramadan 1437/17 June 2016 (MINA) – An Indonesian Coordinating Minister for Political, Security and Legal Affairs, Luhut Binsar Pandjaitan said here on Thursday that the government wishes to settle alleged cases of human rights violations in Papua definitively.
"I will meet all community elements, including religious figures, students, military and police officials and also non-governmental organizations. The government wishes to show to the world that we are serious and transparent in settling the cases. There is no engineering," he said at Sentani airport in Jayapura, Papua.
The process has been going well. The integrated team that was set up in May 2016 to handle alleged cases of human rights violations in Papua and West Papua provinces has been assigned to collect data, information and analysis and it will submit its report to the President, he was quoted by Antara as saying.
Minister Luhut said in a written statement received here that day that a team had indeed been set up by the National Commission on Human Rights (Komnas HAM) in 2011 and this integrated team was set up by the government and was aimed at helping accelerate the settlement of the cases.
"The integrated team has defined the criteria for a human right violation. The criteria have been formulated transparently, and are measurable with impartiality. Based on the criteria, out of 22 reported cases, three could be categorized as human right violations, namely the Wasior, Wamena and Paniai cases," he said, adding that he had never intervened in the process of work of the team.
Minister Luhut said whoever is declared guilty by the team will face judicial process. "Whoever he is, be they community members or law enforcement officials. In principle, whoever is declared guilty will be taken through a judicial process," he said.
To assure that the process is transparent, he said he had invited New Zealands Ambassador to Indonesia, Trevor Matheson, Solomon Ambassador Salana Kalu, Fiji Ambassador S.T. Cavuilati and Papua New Guinea Ambassador Peter Ilau to Papua.
"Their presence here is to make the international community see what we have been doing. They are not a fact-finding team," he said.
When asked about the rejection of the team by a Komnas HAM Commissioner, Minister Luhut said he had received confirmation from Komnas HAM Chairman Nur Kholis that this is a matter of a personal view and not the decision of Komnas HAM.
"When he was contacted by our staff, Pak (Mr) Nur Kholis said the decision of Komnas HAMs plenary meeting is to establish a working task force that will help Nur Khlis and Ibu (Mrs) Zandra Mambrasar to work for Papua together with the governments team," he said.
With regards to reports about more than 1,000 people being arrested while conducting a demonstration to protest the governments team, Papua Regional Police Chief Paulus Waterpauw denied this, saying, "There has never been any arrest made. We only asked them to disperse."
Financial education and economic development
During his visit to the office of the Financial Service Authority (OJK) in Jayapura, Minister Luhut and the Head of the National Planning Board, Sofyan Djalil, had been briefed on OJK activities so far.
OJK has emphasized on financial education and boosting economic development in Papua.
On the occasion, Minister Luhut also expressed support for the development of entrepreneurship in the coffee, cocoa and palm oil plantation sectors.
He advised OJK to set a target and find indigenous business cadres.
Minister Luhut plans to visit Wamena, Manokwari and Merauke while in Papua. (T/R07/R01)
Mi'raj Islamic News Agency (MINA)