Ready to Held Asian Games 2018, Alex Noerdin Says Palembang's Zero Conflict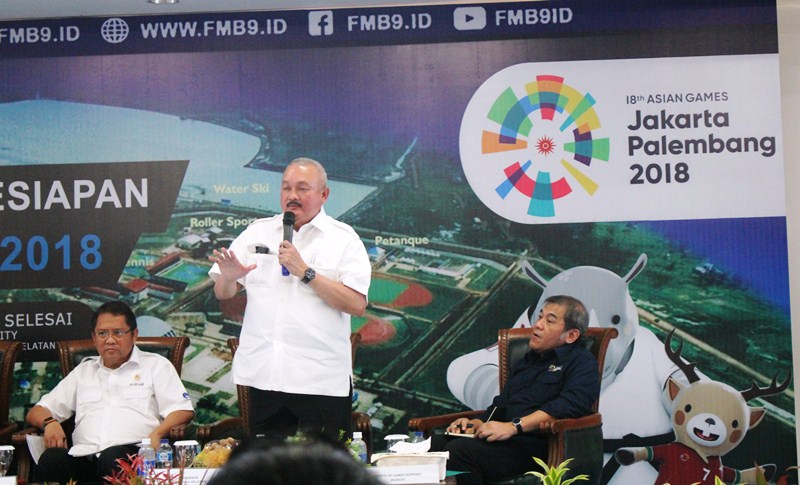 Palembang, MINA – Jakabaring Sport City (JSC) complex in Palembang is ready to organize a 13-sport event at the XVIII Asian Games which will take place from 18 August to 2 September 2018.
South Sumatra Governor Alex Noerdin confirmed Palembang as one of Asia's largest multievent sports councils and the second largest after the Olympics in a situation without conflict or zero conflict.
Alex said this is also marked by the presence of six houses of worship for six different religions recognized in Indonesia at the JSC sports complex. The six houses of worship are built adjacent without fences.
"Insya-Allah next week is over. It is also a proof that in South Sumatra zero conflict, "he said when submitting a report in the West Merdeka Forum (FMB) 9 with the theme" Progress and Readiness of Asian Games 2018 ", at Wisma JSC athletes, Palembang, South Sumatra, Saturday (7/7) .
In addition to Alex, also present as a resource in FMB 9 times are Menkominfo Rudiantara, Head of BPTJ Kemenhub Bambang Prihartono, and Director of IT Inasgoc Panji Choesien.
Alex assured when the condition of Palembang without conflict (zero conflict) is worldwide. It proved the oldest city in Indonesia is several times to host a number of international events.
The JSC complex in Palembang, South Sumatra, a pilot project of Indonesia's sport tourism development, has successfully become a national and international event organizer, such as the SEA Games in 2011, 3rd Islamic Solidarity Games 2013 involving 52 countries, the 17th Association of South East Asian Nations in 2014, and 37 events for various sports since 2010.(LT/R04/RS5) 
Mi'raj News Agency (MINA)