PROTESTS HIT OKLAHOMA MUSLIM TOLERANCE DAY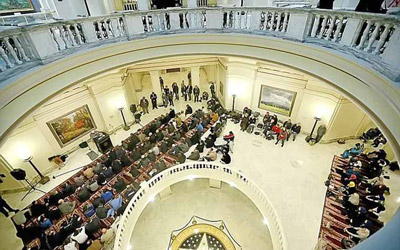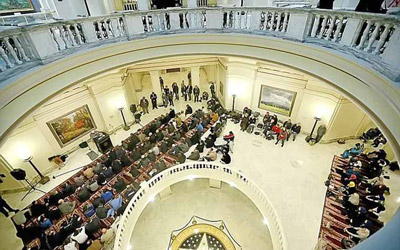 Oklahoma, 11 Jumadil Awwal 1436/2 March 2015 (MINA) – Hundreds of American Muslims attended the Oklahoma state's first Muslim Day at the Capitol on Friday to promote religious tolerance, only to be interrupted by hate protesters holding signs proclaiming the United States a Christian nation.
"This is a day where we see Muslims sending a message of love, peace and understanding," Adam Soltani, executive director of Oklahoma chapter of the Council for American Islamic Relations, Tulsa World on Saturday, February 28.
"Unfortunately, on the way in, you saw messages of hate, as well," On Islam quoted by Mi'raj Islamic News Agency (MINA) as reporting.
While an American Muslim girl sang the "Star Spangled Banner" inside the statehouse in Oklahoma City, about two dozen anti-Islamic protesters outside hurled insults at the group, mostly students, as they visited the Capitol to speak with lawmakers.
"If they had a sword, they'd cut your head off," protesters shouted. Some carried signs saying "Islam equals Death."
Soltani said Muslims who planned to come Friday had been warned of the protests ahead of time and many only responded "God bless you" as they entered the building to taunts. Public Safety Commissioner Michael Thompson said police increased security at the Capitol for the event.
"The protesters outside are protesting all that America is about – the freedom of expression," said Tariq Sattar, board member for CAIR Oklahoma.
"It doesn't matter what religion you are, you should be able to have freedom," Sattar said.
On the other hand, many Muslim attendants saw the protestors as affected by conservatives' campaigns to demonize Muslims, citing talking points like "Sharia law" and the idea that Muslims want to take over the government are scare tactics..
"If you put that fear into someone and get them to be scared, you can manipulate them however you want," Rasel Khondaker, who attended the gathering with his wife Dina Noor, said.
"I think that's what's happening."
"We all want the same things, I think, in some ways," Khondaker said of Muslims and protestors.
"Everyone just wants to live a happy, healthy life."
The protest in Oklahoma comes about two weeks after a gunman murdered three young American Muslims near the University of North Carolina, in the case that riled Muslim activists who demanded that US state and federal authorities investigate the detained suspect for possible hate crimes.
Although there are no official figures, the United States is believed to be home to between 6-8 million Muslims.
A US survey has revealed that the majority of Americans know very little about Muslims and their faith.
A recent Gallup poll, however, found 43 percent of Americans Nationwide admitted to feeling at least "a little" prejudice against Muslims. (T/P011/P3)
Mi'raj Islamic News Agency (MINA)