Portugal's António Guterres As Next UN Secretary-General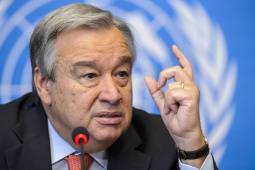 New York, 13 Muharram 1438/14 October 2016 (MINA) – The General Assembly today appointed by acclamation the former Prime Minister of Portugal, António Guterres, as the next United Nations Secretary-General, to succeed Ban Ki-moon when he steps down on 31 December.
Mr. Guterres, aged 67, was Prime Minister of Portugal from 1995 to 2002, and the UN High Commissioner for Refugees from June 2005 to December 2015. He will become the world's top diplomat on 1 January 2017, and hold that post for the next five years.
Adopting a consensus resolution put forward by its President, Peter Thomson, the Assembly acted on the recommendation on the UN Security Council, which on 6 October forwarded Mr. Guterres' name to the 193-member body as its nominee for UN Secretary-General for a five-year period, ending 31 December 2021.
Thanking the General Assembly for appointing him as the next Secretary-General, Mr. Guterres said he was grateful to the Member States for their trust in him as well as for the transparent and open selection process they undertook.
"I believe this process means that the true winner today is the credibility of the UN. And it also made very clear to me that, as Secretary-General, having been chosen by all Member States, I must be at the service of them all equally and with no agenda but the one enshrined in the UN Charter," said Mr. Guterres.
He also underlined that alleviating the suffering of the vulnerable people, in particular the refugees and those in conflict zones, and gender equality would remain key priorities for him during his tenure.
Secretary-General-designate Guterres also reiterated his belief in the values of peace, justice, human dignity, tolerance and solidarity, as well as his belief that diversity is a "tremendous asset" and not a threat.
Guterres, who will become the ninth U.N. chief in the world body's 71-year history, said he is not only fully aware of the challenges the United Nations faces but the limitations surrounding the secretary-general.
"The dramatic problems of today's complex world can only inspire a humble approach, one in which the secretary-general alone neither has all the answers nor seeks to impose his views, one in which the secretary-general makes his good offices available … to help find solutions that benefit everyone involved."
According to Daily Mail, it was Guterres' strong performance answering questions before the General Assembly, and his executive experience as prime minister and as the U.N. High Commissioner for Refugees from 2005-2015 that propelled him to first place among the 13 candidates vying for the job in the informal polls in the Security Council. After last week's sixth poll, the council nominated him by acclamation.(T/R04/R03)
Mi'raj Islamic News Agency (MINA)