Peace Activists Marching to Syria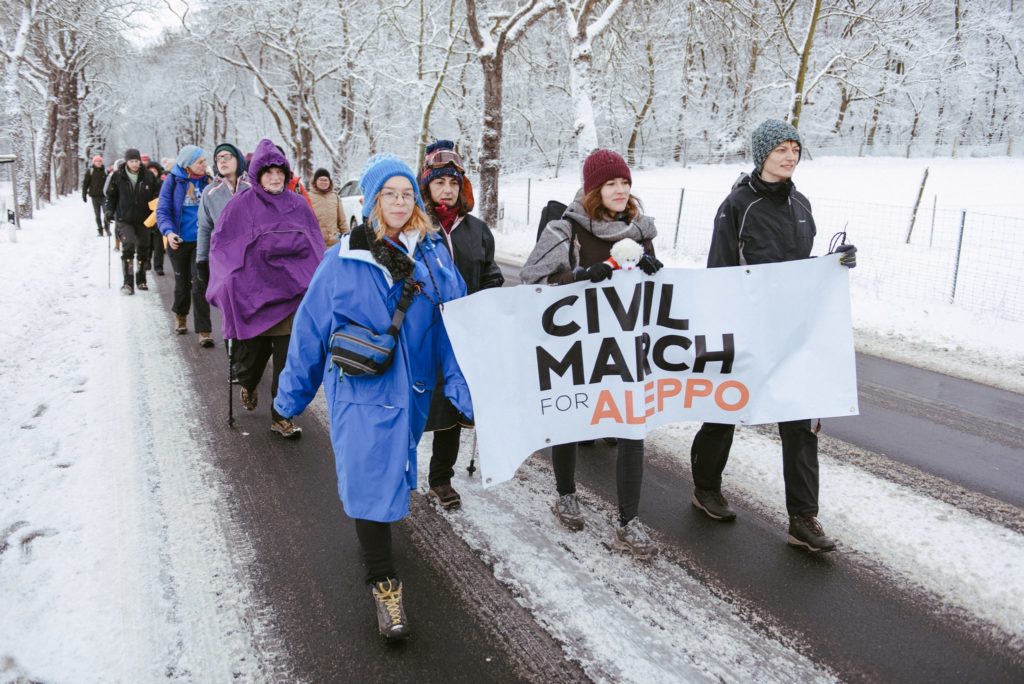 The Civil March for Aleppo retraces Syrian refugees' route backwards – Civil March for Aleppo photo.
Belgrade, Serbia, 17 Rajab 1438/14 April 2017 *MINA) – A group of peace activists taking part in an international walk to Syria arrived in the Serbian city of Nis on Thursday.
The Civil March for Aleppo was organized by activists in Berlin to end the bombing in the war-torn country and deliver humanitarian assistance to civilians.
The 24 activists and Polish journalist Anna Alboth, who leads the movement, have been inviting people to join them for at least a section of their international walk to prove their opposition to the war.
"We have walked more than 1,500 kilometers [930 miles] and … are halfway there.
"In the group we have people from Austria, Germany, Poland, Italy and even Brazil. Some have been here since the beginning, and some are returning home, but again they come. It is valuable," Anadolu Agency reported, citing Alboth in a statement.
"There are those who, because of work, family or other reasons, cannot afford to be away from home for months, but they support us and say that we walk also on behalf of them," she added.
This week, Alboth's husband along with their 6- and 7-year-old daughters joined her for the march.
Their action began at the end of December in Berlin. The activists have already walked through the Czech Republic, Austria, Slovenia, Croatia plus Bosnia and Herzegovina.
They are expected to continue through Serbia, Macedonia, and Greece to reach Syria via Turkey in September.
Jan Horz from Poland, who has been in the group from the beginning of the march, said it was necessary to spread a message of peace among the local population in each city they pass through.
"People are coming forward and asking who we are and what we do. We explain to them and expand our idea. We know that this will not stop the war, but it can influence the minds of people about the war.
"We are for peace in Syria, but also for peace in general," the marcher added. (/RS5/RS1)
Mi'raj Ilamic News Agency (MINA)