Pakistan Ulema Represented Taliban In Indonesia Meeting?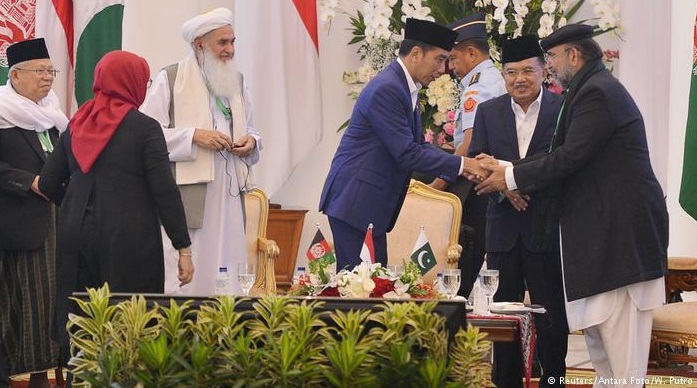 Islamabad, MINA — Mawlawi Anwarulhaq Haqqani, head of Darul Uloom Haqqania madrassa in Pakistan, who participated in the religious scholars (Ulema) meeting in Indonesia in May 11 said Pakistani religious scholars represented the Taliban at the conference.
Indonesia meeting was held between Afghanistan, Indonesia and Pakistan religious scholars.
In a video message after the meeting, Anwarulhaq Haqqani, brother of Mawlana Samiul Haq, leader of Jamiat Ulema-e-Islam party in Pakistan, also known as father of the Taliban, said he did not let the religious scholars meeting in Indonesia to mention Taliban in their declaration.
"In the entire meeting, there was no discussion on ceasefire or taking any decision. We did not let them to mention Taliban. Thepeople (participants of the meeting) had added Taliban's name in the declaration, but we removed it. Don't think about it. We were representing you. Everything went well," said Haqqani.
Haqqani's remarks on Indonesia meeting was sharply criticized by political analysts in Afghanistan.
"Pakistan's intelligence agency in collaboration with religious scholars such as Fazulrahman, Samiul Haq and Anwarulhaq has changed Pakistanimadrassas into recruitment centers for killing of Afghanistan's people. Pakistan religious scholars are slaves of ISI (Inter-Services Intelligence) and they do not believe in any religion," Ahmad Saeedi, a former Afghan diplomat in Pakistan and political affairs analyst, said.
Afghan Defense Ministry's spokesman Mohammad Radmanish meanwhile said some groups in Pakistan are supporting the Taliban under the leadership of intelligence agencies in the region.
"We have said from the very beginning that there are activities and groups in Pakistan which support the Taliban, and this is lead by intelligence agencies in the region," Radmanish told TOLOnews on Friday.
Religious scholars from Afghanistan, Indonesia and Pakistan issued a declaration in Indonesia meeting that supported efforts for peace in Afghanistan.
The declaration stated that war and violence have no place in Islam and that Islam is the religion of peace and true believers should put into practice what this religion has said.
The religious scholars said they support any peace offer, efforts and declarations in hope of bringing peace and prosperity in Afghanistan.
The declaration stated that the religious scholars of the three countries support the peace offer made by the Afghan government to the Taliban aimed to end war and violence in the country. (T/RS5/RS1)
Mi'raj Islamic News Agency (MINA)