OIC Secretary General Rejects Judaization in Al-Quds City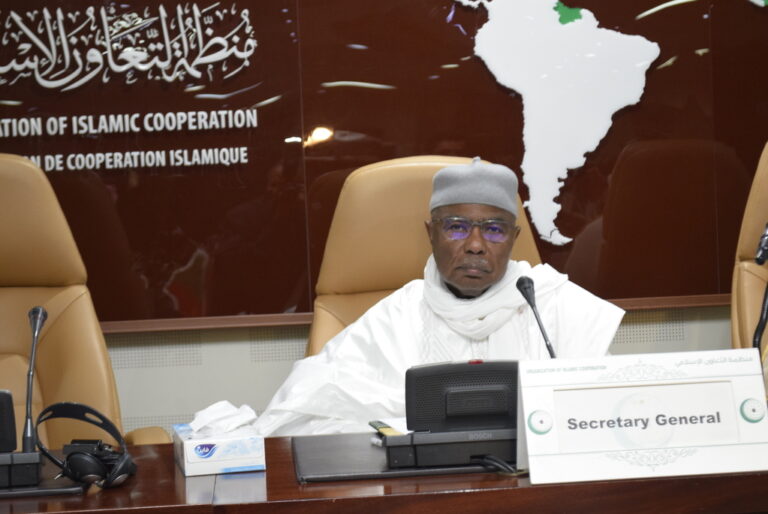 Secretary General of the Organization of Islamic Cooperation (OIC), Hissein Brahim Taha. (Photo: OIC)
Jeddah, MINA – Secretary General of the Organization of Islamic Cooperation (OIC), Hissein Brahim Taha, again warned of the seriousness of Israel's continued brutal attacks on the blessed Al-Aqsa Mosque in Al-Quds City (Jerusalem), Palestine.
He also emphasized that Al-Quds City is an integral part of the Palestinian territories occupied in 1967, and the capital of the State of Palestine, and rejected any attempt to Judaize it.
"All the decisions and actions taken by the Israeli occupation authorities for the Judaization of the occupied Al-Quds city, have no legal force and are deemed null and void," Hissein Taha stressed at an extraordinary open meeting of the OIC Executive Committee at the OIC headquarters in Jeddah on Wednesday.
The emergency meeting that the Secretary General of the OIC convened with representatives of the executive committee discussed the ongoing Israeli attack on the blessed Al-Aqsa Mosque, at the request of the State of Palestine and the Hashemite Kingdom of Jordan.
The Secretary General of the OIC emphasized that the recent actions of the Israeli Occupation Authority were a continuous violation of the sanctity of holy places and freedom of worship, and an attack on the Palestinian people and their holy places, as well as disturbing the feelings and beliefs of Muslims around the world.
Hissein Taha welcomes the international reaction represented by statements of rejection and condemnation of this provocative visit by the Israeli extremist minister to the blessed Al-Aqsa Mosque.
"The violations in the occupied Al-Quds city coincide with a dangerous escalation in the frequency of Israeli crimes against the Palestinian people, represented by the recent Israeli military aggression on the Gaza Strip, which resulted in 36 martyrs," he said.
He pointed out that the number of Palestinian victims over the past six months has increased to around 180 martyrs, besides hundreds of other Palestinians injured.
The OIC Secretary General added, it is inconceivable that Israel, the occupying authority, has always claimed to be a state above the law, yet commits crimes and aggression against the Palestinian people, their land and holy places.
Hissein Taha stressed the responsibility of the international community to put an end to Israel's various violations as a threat to international peace and security.
"OIC follows Israel's dangerous escalation in targeting Islamic and Christian holy sites in the occupied Al-Quds city, especially the desecration and storming of Al-Aqsa Mosque which was blessed by groups of extremist settlers and senior Israeli officials, with the strict protection of the occupying forces," he concluded. .
In addition, holding a meeting of the Israeli occupation government in a tunnel under Al-Aqsa Mosque, and a provocative so-called "flag march" in the neighborhood of occupied Al-Quds city.(T/RE1)
Mi'raj News Agency (MINA)