No Plans As Yet to Hold By-Election for Anwar to Join Cabinet – Wan Azizah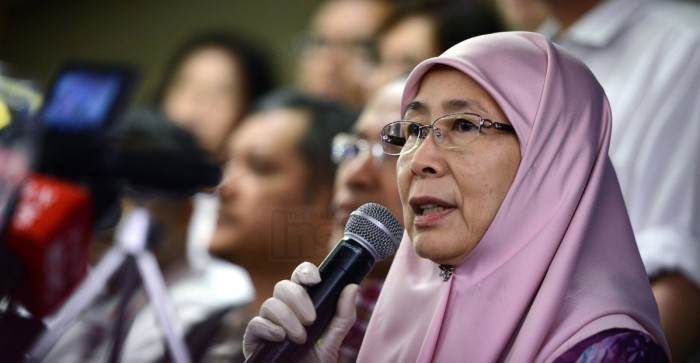 Kuala Lumpur, MINA — PKR President Datuk Seri Dr Wan Azizah Wan Ismail said the Pakatan Harapan (PH) government has no plans as yet to hold a by-election to make way for the party's de facto leader Datuk Seri Anwar Ibrahim to join the Cabinet line up, Bernama reported.
Dr Wan Azizah said this to reporters when asked whether PH would make way for her husband to join the Cabinet line up after obtaining a royal pardon from the Yang di-Pertuan Agong.
Dr Wan Azizah. who is the new deputy prime minister-designate, said Anwar would instead play a role in the formation of a new government taking into account his experience as deputy prime minister before.
"As I said, we will have to give chance for the PM to form a Cabinet and that the government is running well. Anwar will contribute but not actually as part of the government initially," she said after attending a special event to celebrate her appointment as deputy prime minister organised by Pandan PKR here tonight.
Also present were PKR vice-president and Kuala Langat MP Dr Xavier Jayakumar, Port Dickson MP Datuk Danyal Abdullah and Pandan Indah assemblyman Izham Hashim.
In the meantime, Dr Wan Azizah said Anwar was expected to be released at 5pm tomorrow before he showed up at the Merdeka Rakyat Rally at Padang Timur, Petaling Jaya City Council in the evening.
In 2015, Anwar was sentenced to five years' jail for sodomy after the Federal Court upheld his guilty verdict. His release is due on June 8.
On Friday, Prime Minister Tun Dr Mahathir Mohamad said the Yang di-Pertuan Agong Sultan Muhammad V had expressed his willingness to grant an immediate pardon to Anwar.
Meanwhile, in her speech, Dr Wan Azizah reiterated PH's commitment to abolish the Goods and Services Tax (GST) and stabilise oil prices within 100 days of the new administration as stipulated in the coalition's manifesto.
In addition, she said PH would also introduce an Employees' Provident Fund scheme for housewives and pledged to postpone repayment of National Higher Education Fund Corporation (PTPTN) loans for those earning below RM4,000 a month.
As for others (in the manifesto), allow us space and time to implement, she said. (T/RS5/RS1)
Mi'raj Islamic News Agency (MINA)