Minister Indrawati Visits Indonesia-PNG Border Market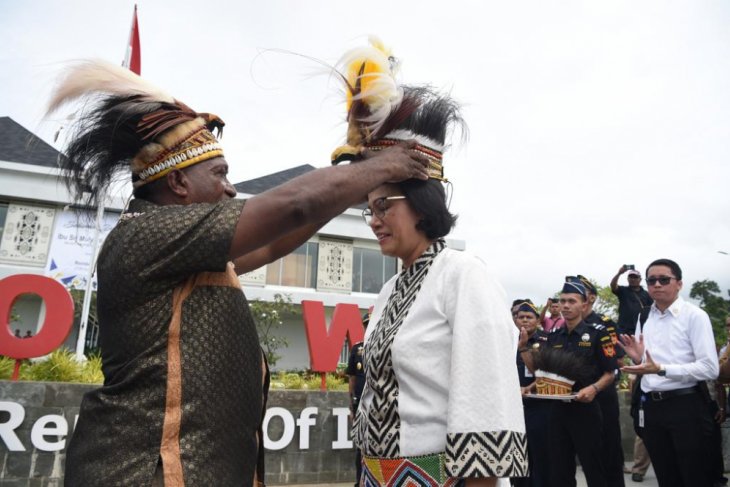 Jayapura, Papua, MINA — Finance Minister Sri Mulyani Indrawati visited the Skouw-Wutung Market, which is the RI-Papua New Guinea (PNG) border located in Muaratami District, Jayapura City, Papua, on Tuesday, Antara News reported.
Commander of the RI-PNG Border Security Task Force (Pamtas) from Yonif PR 328 / DGH, Major Inf Erwin Iswari, when contacted from Jayapura on Tuesday evening, stated that Indrawati, along with the group, not only visited the Skouw-Wutung Market but also had dialogue with traders and market visitors, both from Papua and PNG.
After visiting the Skouw Market, he said, Indrawati and the group continued their visit to the Republic of Indonesia National-PNG Post, which was not far from the market complex.
"But before this, a traditional ceremony was held to welcome the Minister of Finance by the Head of the National PLBN Post, Mr. Yan Numberi," he noted.
Indrawati took time to visit the RI-PNG national boundary zone and then had a dialogue with the traders around the RI-PNG Post.
"The minister had a chance to pose with a monument or a statue of Garuda Pancasila and Skouw`s writing in front of the National PLBN Post," he remarked.
In connection with the working visit of the Minister of Finance, the RI-PNG Task Force, of course, directly carried out security activities of the central government group.
"We, as the border Task Force, are not only carrying out our main duties in protecting the border but are also ready to secure all activities of the government, both working visits and other activities at the border," he added.
Furthermore, Indrawati and the group had lunch and prayed together.
"Around 1:05 p.m., the minister and the staff returned to the PLBN Post to have a joint lunch and zuhr prayer," he explained.
By around 2:50 p.m., Indrawati and his entourage safely and smoothly ended their working visit to the RI-PNG Skouw Border Post. T/RS5/RS1)
Mi''raj Islamic News Agency (MINA)