Meet VP Kalla, NZ Deputy PM to Facilitate Indonesian Victims of Christchurch Terror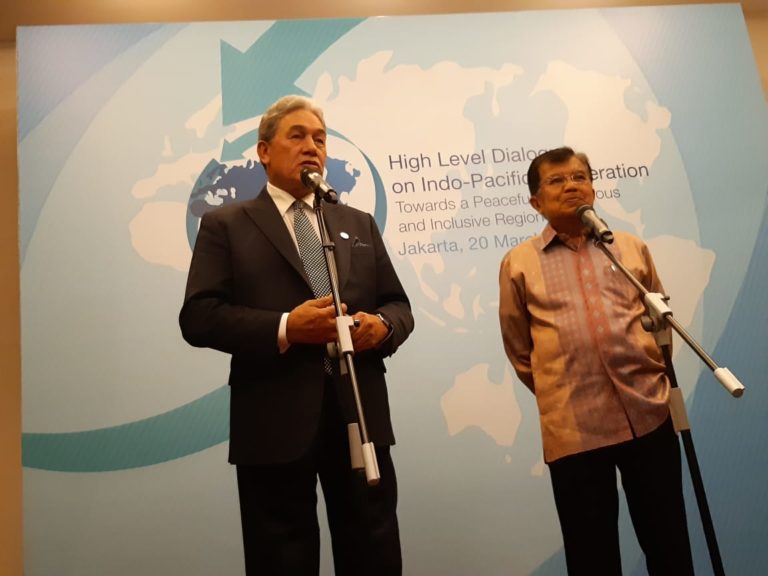 Indonesian Vice President, Jusuf Kalla and Deputy PM New Zealand, Winston Peters (Sajadi / MINA)
Jakarta, MINA – Indonesian Vice President, Jusuf Kalla (JK) on Wednesday, in addition officially opened the High-Level Dialogue Indo-Pacific Cooperation (HLDIPC), he also held a bilateral meeting with the Deputy Prime Minister of New Zealand (NZ), Winston Peters at Fairmont Hotel, Jakarta.
During the meeting, NZ Deputy Prime Minister expressed his grief for Indonesian citizens who were victims of the terrorist acts at two mosques in Christchurch.
Winston, who also serves as Minister of Foreign Affairs expressed his gratitude for support of Indonesian government in this difficult time and he made sure that NZ Government will facilitate all victims, including Indonesian citizens.
"It was just happened recently, there was a dark history in New Zealand related to yesterday's incident, we mourned the death of an Indonesian citizen and two people were injured and one is still being treated," Winston said.
On that occasion, Vice President also expressed his condolences directly to the NZ Government. "We have just had a bilateral meeting with the New Zealand Minister of Foreign Affairs, first Indonesian government and people expressed condolences over (the shooting at) the Chriscruch mosque," JK told media at his press conference.
In addition, he also expressed gratitude to NZ government who was quickly handling the terrorist action. Including arresting suspected terrorists. "And I say thank you for recovering there as soon as possible, and get arrested," he said.
In the meeting, in addition to discussing bilateral relations between Indonesia and New Zealand, in the future, two countries agreed to increase cooperation in economic field. (L/Sj/P2)
Mi'raj News Agency (MINA)