Lampung Tourism Rises Again After Tsunami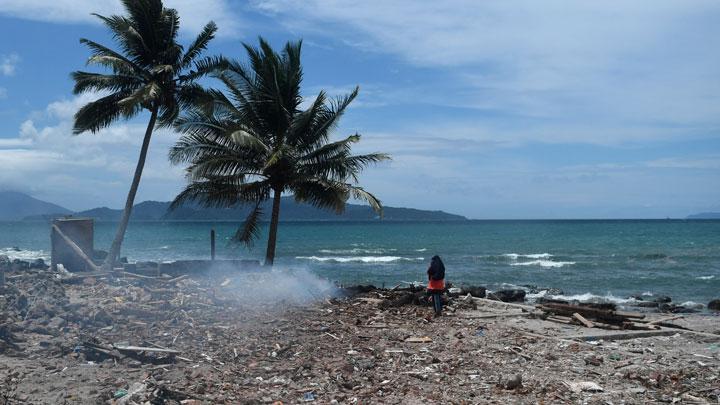 Bandar Lampung, MINA – After the tsunami struck South Lampung, visitors to coastal tourism in three sub-districts; Bakauheni, Rajabasa, and Kalianda declined dramatically. However, now Lampung tourism rises and improves from disaster.
At least, three hotels were badly damaged, they are six rooms of De Mansion hotel, Grand Elty Krakatoa Hotel whose its restaurant was swept away, and Kahaii Beach Resort whose its facilities on the beach were severely damaged. Although Grand Elty Krakatoa Nirwana Resort was only slightly damaged, the number of visitors dropped by 80% compared to last year, Lampost.co reported.
"After the disaster, the number of tourists to Grand Elty dropped drastically. Even during the New Year, we were closed, "said Yundi Luqmansyah Operation Manager Grand Elty Krakatoa Nirwana Resort in Merakbelantung Village, Kalianda District, South Lampung, some time ago.
"After the tsunami, we only focused on the recovery to restore people's interest in visiting some tourism objects. "It is the spirit to get up, make peace with the situation, and reorganize everything assisted by media," he said.
As for De Mension' staff, Noni (27), she said, when the tsunami struck the hotel on December 22, 2018, there were three Jakarta's visitors who stayed there.
"Although many of our tourism facilities were destroyed, three visitors who stayed survived. All visitors and employees of the hotel who worked survived," she said.
Kurniawan, manager of the hotel claimed a loss of up to Rp.4.27 billion due to the disaster. A number of facilities were swept away by the sea water, including six lodging rooms, tree houses, VIP rooms, swimming pools, and music studio equipment.
Responding to that, the South Lampung Tourism and Culture Agency (Disparbud) and Financial Services Authority (OJK) worked together to the recovery. The recovery of the tourism sector will involve coast guards and tourism conscious groups.
"To awaken tourism after the tsunami, we cannot do it ourselves. Therefore, we will collaborate with OJK and other agencies," said Head of Disparbud, South Lampung, Yuda Sukmarina, a few days ago. (T/hnh/P2)
Mi'raj News Agency (MINA)