Journalists Can Be Peace Actors and Information Purifiers in Conflict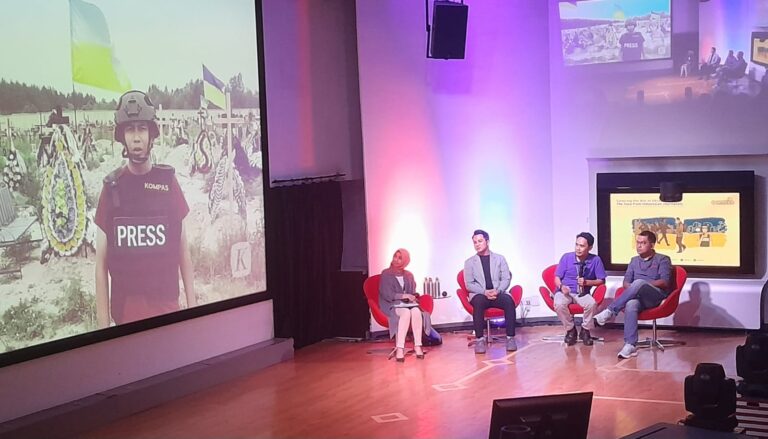 The discussion entitled "Covering War in Ukraine: the View from Indonesian Journalists" was held by the Cultural Center of the United States Embassy in Jakarta, Thursday (23/2/2023). (Photo: Rana/MINA)
Jakarta, MINA – Journalists must be able to become peace actors and their journalistic work is part of conflict resolution.
Furthermore, the mass media is a third party in the conflict, serving as a communication facilitator, mediator, and arbitrator between the two warring factions.
This was concluded in the discussion "Covering War in Ukraine: the View from Indonesian Journalists" held by the Cultural Center of the United States Embassy in Jakarta on Thursday.
The discussion presented three journalists, Teungku Fajri Sabri (TVRI), Kris Mada (Kompas), and Raymundus Rikang (Tempo), who shared their experiences covering from the battlefield, bomb shelters, hospitals, and cities that were fought over, specifically doing direct reporting to conflict areas in Ukraine.
The three journalists are trying to open the perspective of many parties, that the war that is happening is a humanitarian problem. Then, they also invited everyone to think, what if this happened in other countries, including in Indonesia.
US Embassy Spokesman Michael Quinlan said this activity marked one year of Russia's invasion of Ukraine with several Indonesian journalists covering the war directly from Ukraine in 2022-2023.
"This activity is a moment to reflect on how Indonesian journalists play a role in raising awareness about what is happening in Ukraine," said Quinlan when opening the discussion.
The activity was also attended by the Ukrainian Ambassador to Indonesia Vasyl Hamianin who expressed his appreciation and gratitude to the media and the Indonesian people who wanted to stand with him in voicing justice.
According to Tempo journalist Raymundus Rikang, in this war a lot of disinformation occurred, so direct confirmation was needed, seeking the truth about this ongoing war.
He said that Tempo sent journalists to war locations as clearing houses of information to clear up information circulating about the Ukraine-Russia war.
"Journalism's job is to seek the truth and the function of the media is as a clearing house of information so that we become eyewitnesses of what actually happened in the conflict field," said Rikang.
In carrying out his duties, he continued, journalists themselves must adhere to objectivity, and the news narratives they make are focused on conflict resolution for how the war will end soon and peace will be realized.
Rikang added that the media's alignment in reporting on conflicts or wars is focused on universal humanitarian issues, giving testimony to the public, and reflecting on the values ​​of public virtue, based on peace and justice.
Reinforcing what Rikang said, Kompas journalist Kris Mada encouraged coverage that focused on humanitarian issues and peace resolution while on duty on the battlefield.
He also shared tips on how sources could be consulted or told facts and information needed while on duty in conflict areas.
Meanwhile, TVRI journalist Teungku Fajri Sabri said that a journalist must have a strong mentality when reporting on a battlefield like this.
"We won't know what will happen or what will happen there, when we report, we have to prepare ourselves mentally," he said.
"From the results of this coverage, we are trying to push for a peaceful resolution. Gives people a view from a humanity perspective. That many civilians were sacrificed, and millions of people had to be saved. This is a global mission brought by the Indonesian media, according to the direction of the President of the Republic of Indonesia," concluded Fajri. (T/RE1)
Mi'raj News Agency (MINA)