Japan Donates $ 6 Million for Palestinian Refugees in Lebanon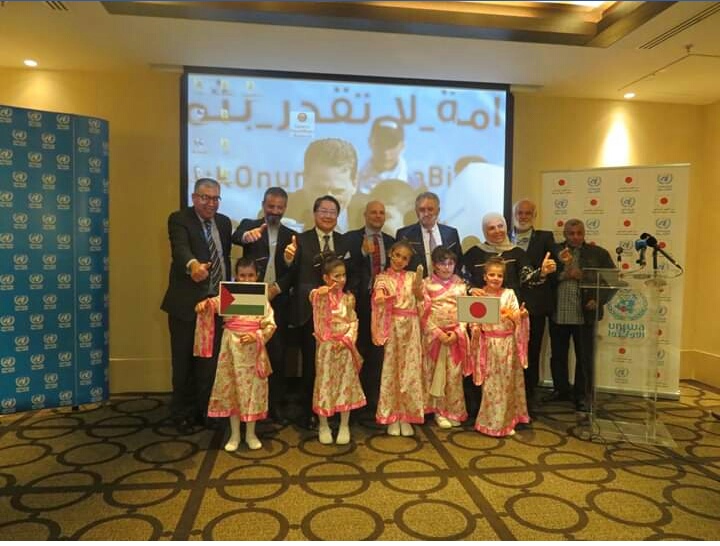 Japanese ambassador to Lebanon, Matahiro Yamaguchi was present at the ceremony to hand over funds to UNRWA at the Gefinor Rotana Hotel in Beirut (Facebook)
Beirut, MINA – Japanese Embassy in Lebanon announced on Thursday that it was contributing again US $ 6 million to UN Relief and Work Agency for Palestinian Refugees in the Near East (UNRWA).
According to Ma'an News Agency from the Facebook page of the Japanese embassy on Saturday (6/4), Japan's Ambassador to Lebanon, Matahiro Yamaguchi announced, giving 5.5 million US dollars to UNRWA. It will be used to reduce impact of Syrian crisis on Palestinian refugees in Lebanon through project implementation in the fields of health care, water and sanitation, and solid waste management.
Yamaguchi added that Japan also supports the UN agency with an additional 580 thousand dollars specifically to improve medical services and UNRWA health care facilities.
Yamaguchi said that ceremony to hand over the funds was organized by UNRWA at Gefinor Rotana Hotel in Beirut, attended by the Palestinian Ambassador to Lebanon, Ashraf Dabbour and UNRWA Director in Lebanon, Claudio Cordone.
In his speech, Yamaguchi hoped that the assistance would help alleviate the suffering of Palestinian refugees in Lebanon and reaffirm his country to support Palestinian generation to be able to access basic services and realize their great potential regardless of any restrictions.
Then, Dabbour thanked the Japanese Government and those who supported Palestinian refugees in Lebanon who were forced out of their homes by Israeli forces in 1948.
Dabbour also called on the world to support the realization of the national rights of Palestinian people, for self-determination, the right to establish an independent and sovereign state in the Palestinian territories occupied in June 1967 with East Jerusalem as its capital, and the right of Palestinian refugees to return to their homes.
Meanwhile, Cordone also thanked the Japanese Government for its continued support of Palestinian refugees and helped UNRWA continue to provide important assistance to refugees. (T/Sj/P2)
Mi'raj News Agency (MINA)