Jakarta Forms Special Team to Anticipate Coronavirus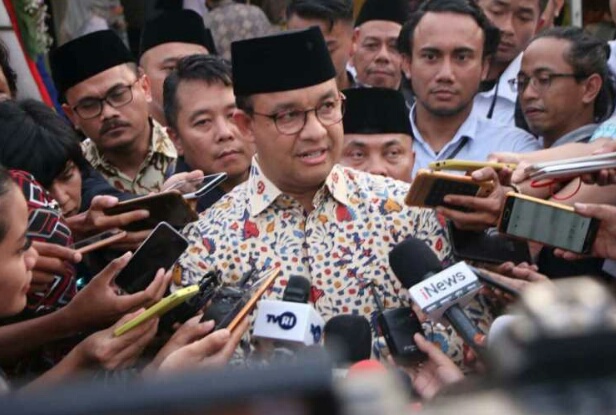 DKI Jakarta Governor Anies Baswedan when reviewing the construction site of the International Museum of the History of the Prophet in Ancol, North Jakarta, last Wednesday (26/2).
Jakarta, MINA – DKI Jakarta Governor Anies Baswedan said that his office had formed a special team to anticipate the spread of Coronavirus or Covid-19 in Jakarta.
According to Anies, the formation of special team not only involved the SKPD (Regional Work Unit) but also various parties, as stated in Governor's Instruction (Ingub) number 16 of 2020.
"The Covid19 Response Team was indeed prepared. And this is a reference for all activities related to Covid-19. The Covid-19 rapid response team consisted of all elements, "Anies said on the sidelines of the 101st DKI Jakarta Provincial Fire and Safety Service (Gulkarmat) Anniversary, Central Jakarta, Sunday.
"We have prepared, issued the governor's instructions addressing the coronavirus that occurs outside Indonesia. Because in recent days, there have been more than 10 countries announcing the first coronavirus case in their country, from New Zealand to Nigeria, "he added.
Anies revealed that this team was deliberately formed as a special team, so that it becomes a reference. Because, if you only rely on the existing SKPD, on average it is routine work. With this Covid-19 response team specifically alert and prevent the spread of 2019-nov.
"Right now we are worried because in just a few days, there have been so many new countries announcing new case findings. Now we are in Indonesia, we in Jakarta, especially as the gate of Indonesia, must be on standby. And we have already taken the steps, "he said.
This team, continued Anies, will be led by the Governor's Assistant for People's Welfare. While the composition of the team members will be explained later. They in this team, explained Anies, would later have a special post. And all communications related to Covid-19 through this team.
Anies explained the condition of suspicion to date, for more than one month in DKI there were 115 people under surveillance and 32 patients under surveillance.
Those who are monitored follow the criteria established by the Ministry of Health. However, nothing has been announced by the authorities that are positive coronavirus.
"Now, I speak corona. There are several things, to date, for more than one month in DKI there were 115 people under surveillance and 32 patients under surveillance. This all follows the criteria set by the Minister of Health, "he said. (T/RE1)
Mi'raj News Agency (MINA)