ISRAELI TROOPS RAID AL-AQSA MOSQUE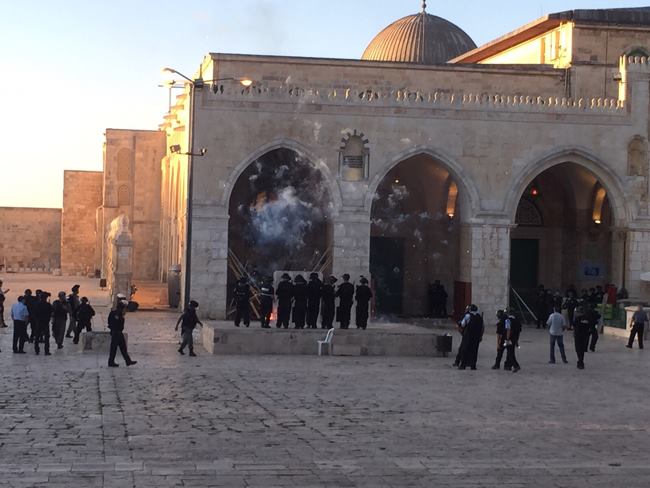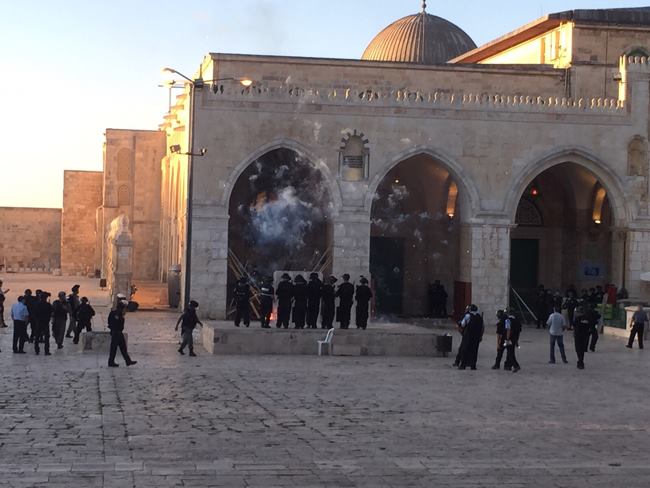 Al-quds, 15 Dzulhijjah 1436/29 September 2015 (MINA) – Heavy clashes erupted on Monday, September 28, after Israeli occupation forces attacked worshippers inside Al-Aqsa mosque, in a bid to allow Jewish worshippers into Islam's third-holiest site, as the eight-day Jewish festival of Sukkot, which began Sunday night.
"Thousands of Muslims must go to the holy shrine and remain inside it to protect it," Palestinian member of the Israeli Knesset Haneen Al Zoabi wrote on her Facebook page, Gulf News reported.
Zoabi called for a renewal of the Palestinian national struggle within the boundaries of Al Haram Al Sharif and Al-Quds (occupied Jerusalem). OnIslam.net quoted by Mi'raj Islamic News Agency (MINA) as reporting.
On Sunday, Palestinian protesters prepared to "defend" the mosque during the eight-day Jewish festival of Sukkot, stocking stones inside the shrine and planning to sleep in it.
Young masked Palestinians "threw stones and fireworks at police and border police forces", who responded with "riot dispersal means", police said of Sunday's early morning clashes.
New clashes erupted Monday morning between Israeli police and Palestinian youth.
Witnesses reportedly said Israeli police entered the compound early Monday and fought with the worshippers, who barricaded themselves inside the mosque.
Police fired stun grenades through windows at worshippers and approached the mosque's main gate using metal barricades to shield themselves, Al Jazeera reported, citing police.
The Islamic Movement in Israel and the Higher Arab Monitoring Committee, which represents Arab communities in Israel, urged Muslims to go to the compound to defend it on Sunday.
"Al-Aqsa is a holy place, but it is also a national symbol for Palestinians and all Arabs," Sheikh Kamal Khabit, deputy head of the Islamic Movement said.
"Jewish extremists want to destroy Al-Aqsa to build a third temple."
World Concern
The ongoing violence at the holy site has also grabbed international attention, with Turkish President Recep Tayyip Erdogan urging the UN to take action against Israel's "breach."
The US State Department has also expressed concern about the clashes in the area.
"We strongly condemn all acts of violence. It is absolutely critical that all sides exercise restraint, refrain from provocative actions and rhetoric and preserve unchanged the historic status quo on the Haram al-Sharif/Temple Mount," State Department spokesman John Kirby reportedly said.
Al-Aqsa is the Muslims' first Qiblah [direction Muslims take during prayers] and it is the third holiest shrine after Al Ka`bah in Makkah and Prophet Muhammad's Mosque in Madinah, Saudi Arabia.
Its significance has been reinforced by the Islamic incident of Al Isra'a and Al Mi'raj — the night journey from Makkah to Al-Quds and the ascent to the Heavens by Prophet Muhammad (Peace and Blessings be Upon Him).
Israel occupied the holy city of Al-Quds, the West Bank and Golan Heights in the 1967 war and later annexed them in a move not recognized by the international community or UN resolutions.
Since then, Israel has adopted a series of oppressive measures to force the Palestinians out of Al-Quds, including systematic demolition of their homes and building settlements. (T/P007/R03)
Mi'raj Islamic News Agency (MINA)