HALF OF ISRAELI POLITICAL-SECURITY CABINET OPPOSES CEASEFIRE AGREEMENT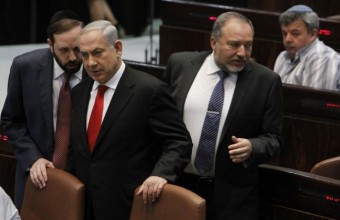 Tel Aviv, 1 Dzulqo'dah 1435/27 Agustus 2014 (MINA) – Avigdor Lieberman (Israeli Foreign Minister), Naftali Bennett (Israel's Industry, Trade and Labor Minister), Gilad Erdan (Israel's Home Front Defense Minister) and Yitzhak Aharonovich (Israel's Internal Security Minister) opposed the Israeli-Palestinian ceasefire agreement, According to Israeli National Radio.
The PNN reports that Naftali Bennett has requested that PM Benjamin Netanyahu hold a cabinet session, in order to discuss the truce agreement, International Middle East Media Center reported.
Netanyahu reportedly refused to do so, as he had already obtained the approval of Attorney General Yehuda Weinstein to make the decision for accepting the ceasefire agreement without previously consulting the Israeli Political-Security Cabinet.
Justice Minister Tzipi Livni also criticized the agreement, saying: "It must include the basis for the disarmament of the Strip, to prevent the entry of arms and the growth of the Palestinian resistance. There should be an effective monitoring mechanism."
Furthermore, several mayors and regional councils of areas near Gaza also expressed dissent over the agreement, stating that they fear more attacks over the coming months.
The Egyptian government announced permanent ceasefire agreement between Israel and Palestine that began on Tuesday 07:00 pm Gaza Time, Mi'raj Islamic News Agency (MINA) Correspondent reported.
All Gazans celebrated the victory by taking to the streets.
The agreement also announced by Palestinian President Mahmoud Abbas who appreciated the efforts of Egypt and all those who played a role in restoring peace to the Gaza Strip.
"We expressed high appreciation for the efforts of Egypt and all parties who have worked hard to reach the peace deal. Qatar also played a role in the deal. We also said that the Secretary of State John Kerry also contacted us for the same purpose, so we are grateful to all those who played a role in facilitating the ceasefire deal," said Abbas.
Saudi Arabia has also provided a guarantee on the part of the Palestinians.(T/R04/R03)
Mi'raj Islamic News Agency (MINA)