Israel to Remove Badui Villages in the West Bank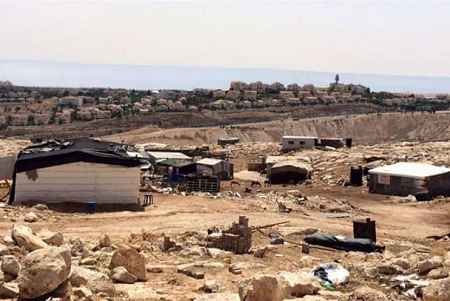 Jerusalem, MINA – Israel's Supreme Court on Wednesday smoothed its way to the demolition of Badui villages in the West Bank colonies that become the center of the demonstration of Palestine and world attention.
In a decision through his spokesman, the Supreme Court rejected the petition against Khan al-Ahmar's demolition and proclaimed a temporary order, which withheld the decision will end in a week. Reported by Antara News
There are around 180 Bedouins, who raise sheep and goats, live in canned huts and wood at Khan al-Ahmar, they are outside Jerusalem between two Israeli settlements and were built without Israeli permission, what Palestinians say is impossible.
Israel said the residents will be moved to an area about 12 kilometers near the Palestinian village Abu Dis.
However, the new place is next to a landfill and a human rights defender stated that the forced displacement of the population would violate international law, which is applicable for colonies.
European Union openly urges Israel to cancel the planned eviction.
A resident of Khan Al-Ahmar, Feisal Abu Dahouk called the Court decision is a "racist", telling  Reuters by telephone, "there is no place we can go."
Israeli Defense Minister Avigdor Lieberman praised the decision.
"Khan al-Ammar will be emptied! I congratulate the Supreme Court judge for their calls and brave decisions, in the face of the hypocrisy of Abu Mazen (Palestinian President Mahmoud Abbas), leftist group and European country, "said Lieberman on Twitter.
The head of the United Arab List in the Israeli parliament, Ayman Odeh on Twitter stated that the villagers became the victim of a destruction policy from the right government, which expanded the group settlements at the expense of Arab society.
Most countries consider Israeli settlements in the colonies land in The Middle East War in 1967 are illegal and became an obstacle to peace.
They said the settlement reduced and disunited the region, the Palestinians fight for the future country later in the West Bank, East Jerusalem, and the Gaza Strip.
Israel disputed the land by quoting the Bible, history and political relations with the land as well as security needs. (T/Sj/P2)
Mi'raj News Agency (MINA)