ISRAEL EXTREMELY AGGRESSIVE TOWARDS PALESTINIANS: SWEDEN'S FM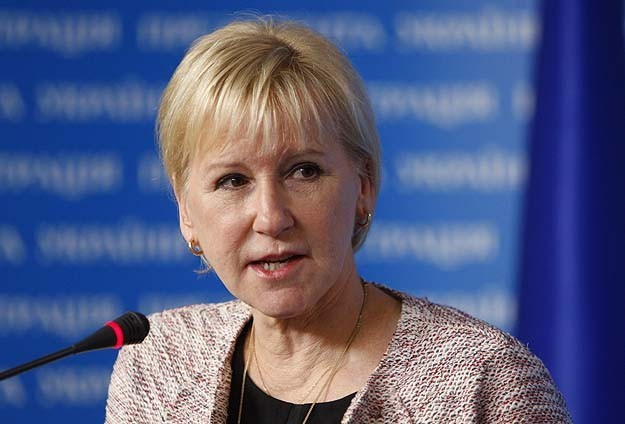 Brussels, 26 Rabiul Awwal 1436/17 January 2015 (MINA) –  Israel's policies against Palestinians are "extremely aggressive", Sweden's Foreign Minister Margot Wallstrom has declared a day after being told she was not welcome in Israel.
Wallstrom's comments came on Friday in an interview with local media as she discussed her country's recognition of Palestine statehood, Anadolu Agency quoted by Mi'raj Islamic News Agency (MINA) as reporting.
She told Swedish daily newspaper Dagens Nyheter: "We knew that the Israelis would react, and they do have a rhetoric that has gone beyond all limits."
"The way they have been talking about us [the Swedish government] and others is not acceptable."
Wallstrom underlined that a two-state solution to the Israeli-Palestinian conflict should be implemented "while it is still possible", adding: "I am for Israel, I am for Palestine".
But she added: "Israel has been extremely aggressive."
'War of words'
"They have continued with their settlement policy, they have continued with their demolitions, they have continued with the policy of occupation with a humiliation of the Palestinians, which makes the [peace] process very difficult."
The apparent war of words between Israel and Sweden followed a deterioration in relations triggered by Sweden's recognition of Palestine last October.
Israeli Foreign Ministry spokesman Emmanuel Nahshon told Swedish Radio on Thursday: "The Swedish Foreign Minister [Margot Wallstrom] – she would not have received any official meetings in Israel, and it's not a matter of political perspective."
"I think that all decision-makers in Israel agree that what Sweden did is a highly unfriendly act."
Sweden became the first EU member to recognize Palestine as a state on Oct. 30, 2014 in a move which infuriated Israel, which recalled its ambassadors from Stockholm.
Later on Friday, the Prosecutor of the International Criminal Court at The Hague, Fatou Bensouda, announced she had opened a preliminary investigation into the "situation in Palestine" after the Palestinian government lodged claims of war crimes against Israel.
The ICC made the announcement on its website, weeks after the Palestinian Authority requested the ICC investigate war crimes it said were carried out by Israel during the Israeli Defense Force's Operation Protective Edge launched in July, in which more than 2,200 Gazans were killed. (T/P010)
Mi'raj Islamic News Agency (MINA)