Islam in Indonesia Believed To Be Reference Muslim Nowadays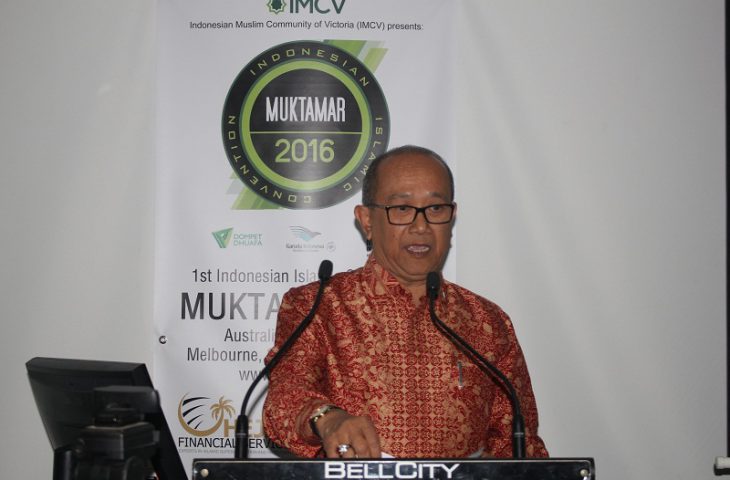 Melbourne, 22 Dzulhijjah 1437/24 September 2016 (MINA) – The Indonesian ambassador to Australia Nadjib Riphat Kesoema said Islam in Indonesia believed to be reference of world Muslim nowadays.
The statement said during his opening speech at The 1st Indonesian Islamic Convention Australia and New Zealand, Saturday (24/9) in Melbourne.
As the Coordinator of the OIC countries' ambassador association, he said, Indonesian Muslims mannered could become an example of real Muslim.
"I believe the Indonesian Muslims in Australia can be an example and reflection for Muslims throughout the world because of Indonesia as the largest Muslim communities in the world," said the Ambassador during his opening opening remarks.
For the first time, Indonesian Muslims who are members of Indonesian Muslim Society of Victoria (IMCV) initiated the implementation of the Indonesian Muslims Conference in Australia, which was held on Friday-Sunday, September, 23-25 2016  at Bell City Hotel, Melbourne.
The conference titled "Living in Harmony" is expected Indonesian repatriates could have an impact to the Australian community who have more background in cultural, social, racial and religious heterogeneous.
Meanwhile, IMCV chairman, Neil Siregar said the event was a great opportunity for the people of Indonesia to prove to the international community that the country has a great contribution for mankind.
The meeting is also evidence that Indonesia could operate and invites Australians to live in harmony in the midst of a heterogeneous society, despite the rise of anti Islam nowadays.
"We can do this and Islam is a peaceful religion," he said.
On the same occasion, the Indonesian Consulate General in Melbourne, Dewi Safitri said, "amid many problems in Australia, we could contribute to the development of Australian society."
"We strongly support the existence of a movement and real action that can be taken as a result of this conference," said Dewi.
The speaker of the Australian Muslim leaders such as Dr. Zacharia Matthews who will present the topic of "Muslim identity in the West, Social Development and the People", Brother Abdushahhed Drew who will also deliver the topic of "Islam in Australia" and Sheikh Mustapha Sarakibi with his "Life in Diversity" topic.(L/P008/R04)
Mi'raj Islamic News Agency (MINA)