Indonesian Products Targeted 30% of the Needs of Hajj Pilgrims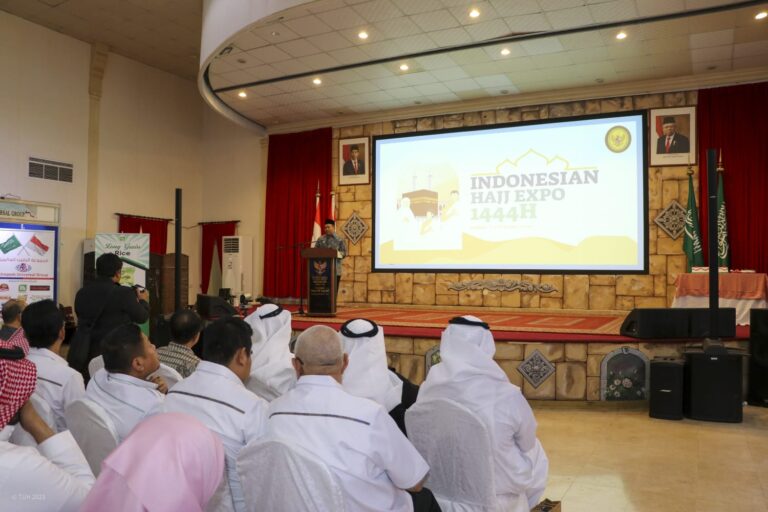 Jeddah, MINA – The Indonesian Consul General in Jeddah Eko Hartono emphasized that his party continues to try to open the faucet for exporting Indonesian products to Saudi Arabia, with a target of 30% of the needs of the Hajj pilgrims.
"This is a strategic program considering the number of Indonesian pilgrims is the largest in the world. We are targeting that in the next three years, we can meet 30% of the food and drink needs for our pilgrims," ​​said Eko Hartono in Jeddah on Friday.
According to Eko, so far the proportion of Indonesian products consumed by Indonesian pilgrims is still very small, only around 10%. Even though the value of food and drink consumed by Indonesian pilgrims reached IDR 500 billion.
One of the efforts made by the Indonesian Consulate General to achieve the target of 30% is holding the Indonesian Hajj Expo (IHE).
IHE will be held for two days, 1-2 February 2023 at Balai Nusantara, Wisma Consul General of the Republic of Indonesia in Jeddah. This activity was attended by 21 Indonesian exporters and 9 importers of Indonesian products in Saudi Arabia. In addition, around 40 catering service providers in Saudi Arabia, both from Mecca and Medina, participated.
"More than 300 visitors attended IHE 2023. Apart from Indonesian exporters, Saudi importers and Saudi caterers, there were also the Indonesian Chamber of Commerce, Makkah and Jeddah Kadin, as well as representatives from the Ministry of Religion, Ministry of Agriculture and KKP," he said.
"By bringing together potential Indonesian suppliers with Saudi users, it is hoped that a trade agreement will be reached with good prices and product quality for Hajj, especially for food and beverages," he continued.
Eko assessed that IHE 2023 received a positive response from Saudi Arabia, especially importers. However, Indonesian exporters must meet the requirements for their products to enter, especially from the Saudi Food and Drug Authority (SFDA). This is because without SFDA certification, it is difficult for Indonesian products to enter, so this must be resolved immediately.
"Some are in the process, such as rice and fish. Going forward, we have asked our businessmen to continue the licensing process for other products so that in the following years they can enter Saudi Arabia and can be used for pilgrimage," he hoped. (T/RE1)
Mi'raj News Agency (MINA)