Indonesian-Palestinian Wedding Attended by Embassy and Gazan Ulema Representative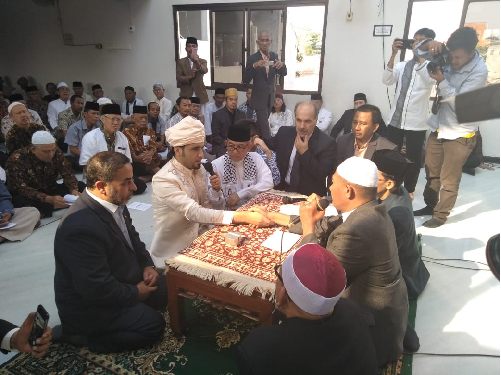 Semarang, MINA – Historical marriage between Indonesian and Palestinian again occurred. This time Semarang became the city of their marriage.
Zulfa Salsabila bint Al-Farabi with Muhamed Al-Massri bin Yahya Mustafa held his marriage ceremony at Al-Hikmah Mosque, Suyudono Street 41, which is also a historic mosque for the struggle of the Indonesian nation to gain independence as well as the Imaam Masjid Al-Aqsa once delivered his sermon in the same place.
Present on behalf of the bridegroom, First Secretary of Palestinian Embassy MR Taher Hammad, who representing the Palestinian Ambassador to Indonesia H.E Zuhair Al-Shun and the Gaza cleric as well as Professor of Al-Quds Islamic University, Prof. DR. Mahmoud Anbar.
The marriage between Indonesian and Gazan this time is the third after Muhammad Husain married Gaza's woman, Jihan and Abdillah Onim. At that time, both went to Gaza as volunteers dispatched by the MER-C Humanitarian Institute.
Al-Farabi as the custodian of the bride said, this is a form of fraternal spirit of the Indonesian nation with the Palestinian people. May this marriage give birth to generations of fighters and liberators of Al-Aqsa and of Palestine from the Zionist colonialism.
Imaam Yakhsyallah Mansur when giving tausiyah marriage conveys that this marriage is a historic event as a manifestation the support of Indonesian Muslims for the independence of Palestine and the liberation of Al-Aqsa Mosque. Through marriage, Muslims can glorify each other as the Prophet Muhammad glorifies some tribes through marriage.
Muhamed Al-Misri is a young man from Gaza who still has Egyptian blood from his mother. Three years ago, he intended to continue studying in Turkey. However, his wandering actually took him to Indonesia and today he found his match in Semarang.(LT/R04/RS5)
Mi'raj News Agency (MINA)