Indonesian Muslims in Australia and New Zealand to Set up Communication Forum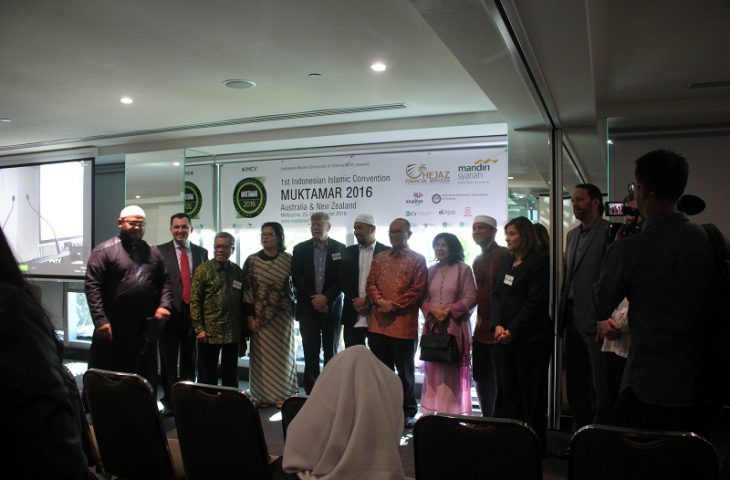 Melbourne, 24 Dzulhijjah 1437/26 September 2016 (MINA) – Indonesian Muslim communities in Australia and New Zealand have agreed to set up a communication forum, with the aim to spread Islam which is peaceful and friendly more effective.
It was raised in the Conference of Indonesian Muslims in Australia held in Melbourne and ended on Sunday (25/09/2016).
Themed "Living in Harmony', the conference was organized by Indonesian Muslim Community of Victoria (IMCV) and opened by Indonesian Ambassador to Australia Najib Riphat Kesoema on Saturday (24/09/2019).
"The follow-up of this conference is to form a kind of forum for communication among the entire organizations of the Indonesian Muslim communities in Australia and New Zealand," President IMCV Neil Siregar told ABC reporter Farid M. Ibrahim on the sidelines of the conference.
On the occasion, Mr Najib said this conference again shows the efforts of the Indonesian Muslim community in Australia in promoting a tolerant, peaceful and moderate face of Islam.
"Indonesian Muslims here become a role model in establishing a peaceful brotherhood with the communities from different backgrounds in Australia, particularly when Muslims are under the spotlight and sometimes seen as a threat by other people," he said.
Mr Najib who is also Chairman of the Association Ambassadors of the member State of the Organisation of Islamic Cooperation (OIC) in Canberra regarded the conference as a complement to the steps taken by the Ambassadors of OIC member countries to Australia in boosting the image of Islam.
Ambassador Najib said that Indonesia deserves to be proud because from a historical perspective, the Indonesians, through Bugis traders from Makassar in 15th century had introduced Islam peacefully to the Aborigines in Australia.
The mission of IMCV is to assist Indonesian Muslim Community in Victoria in its quest to advance its intellectual and spiritual capacity for the benefit of Indonesian society at large both in Australia and Indonesia.
IMCV was founded in 1997 by six Islamic study groups in Victoria with the support from the Consulate General of Republic of Indonesia in Melbourne.(L/P008/R07)
Mi'raj Islamic News Agency (MINA)