Indonesia Becomes the Overall Champion of 2023 ASEAN Para Games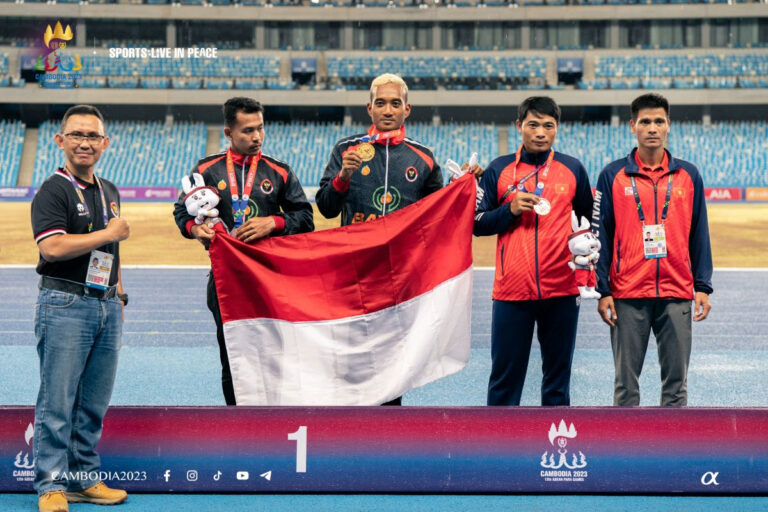 Phnom Penh, MINA – Indonesia is confirmed to be the overall champion of the 2023 ASEAN Para Games after collecting 128 gold on Wednesday 7 June 2023 evening WIB.
Chairperson of the Indonesian National Paralympic Committee (NPC) Senny Marbun stated that the Indonesian contingent had officially become the overall champion of the 2023 ASEAN Para Games.
"With God's permission, Alhamdulillah, Indonesia has officially defended the overall title at the ASEAN Para Games Cambodia," said Senny on Thursday.
This means that the Indonesian contingent has succeeded in making new history because it was able to achieve a hat trick or three times in a row to become the overall champion in this biennial sports competition.
Indeed, the ASEAN Para Games 2023 competition still competes in many sports on Thursday and Friday.
However, in fact the number of 128 gold medals for Indonesia is no longer being able to catch up with other countries.
Indonesia has been confirmed as the overall champion of the 2023 ASEAN Para Games which will take place in Cambodia.
"I, Senny Marbun, as the Chairperson of NPC Indonesia, thank all parties involved for achieving the overall champion at the 2023 ASEAN Para Games," he said.
As of Thursday at 10.30 WIB, Indonesia is still firmly on top of the medal standings with 129 gold, 120 silver and 76 bronze.
Mathematically, the acquisition of 99 gold medals by Thailand in second place is no longer possible to overtake Indonesia.
Representatives of Indonesia are dominant in several sports such as Para Chess (12 gold), Para Judo (11 gold), Para Powerlifting (17 gold), and Para Table Tennis (19 gold).
"In accordance with President Joko Widodo's request, we can again defend the title of overall champion of the ASEAN Para Games," said Senny.
Senny said that his party would continue to strive to defend the overall title at the Southeast Asian level. A similar target will be carried out again at the ASEAN Para Games 2025 Thailand.
"We also became the overall champion of last year's ASEAN Paragames in Surakarta. In the future, we will always try to defend this overall championship title which will be held in Thailand in 2025," said Senny.
ASEAN Para Games Medal Standings 2023 (Until Wedneday 10.30 WIB)
1. Indonesia: 129 gold, 120 silver, 76 bronze or bronze.
2. Thailand: 99 gold, 90 silver, 65 bronze.
3. Vietnam: 62 gold, 53 silver, 76 bronze.
4. Malaysia: 44 gold, 36 silver, 25 bronze.
5. Philippines: 27 gold, 32 silver, 39 bronze. (T/RE1)
Mi'raj News Agency (MINA)