Indonesia: 2 Million Rallied to Defend Al-Quran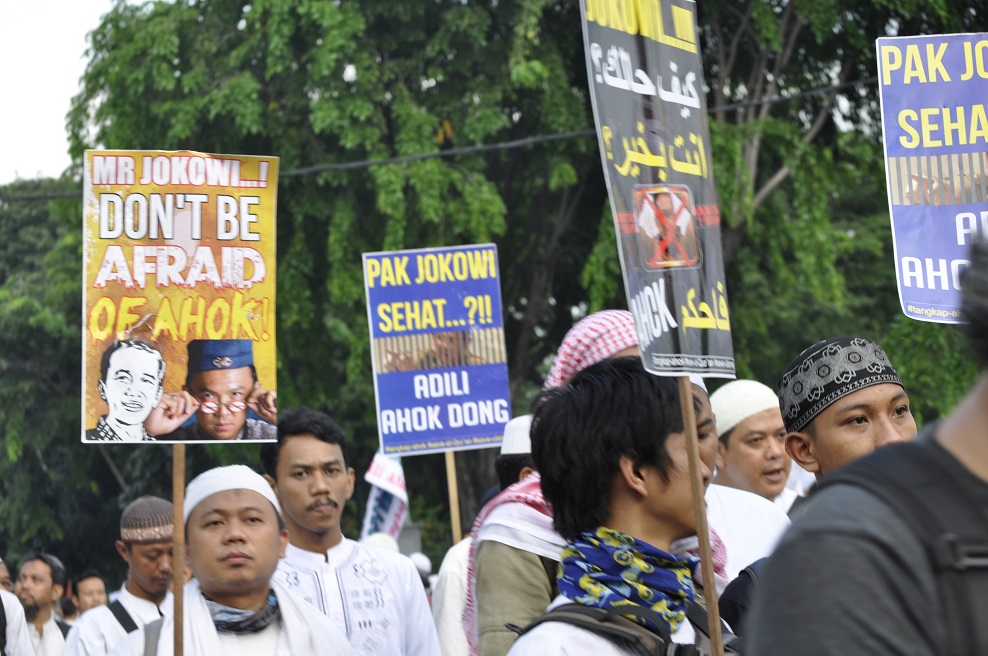 Jakarta, 5 Safar 1438/5 November 2016 (MINA) –  At least two million Indonesian rallied in central Jakarta to show  what they called "Defend AlQuran" following blasphemy towards a verse from the Al-Quran by Jakarta Governor candidate Basuki "Ahok" Thahaja Purnama.
The demonstrators came from across the regions in Indonesia demanding Ahok  to be prosecuted following the humiliation statement that he made in one of the Seribu Islands late September.
Those hinterland protesters started to arrive in Istiqlal mosque, the biggest mosque in the country since  the day before . The number of the protestors started to reach its peak at 8 am local time. Many of them have already started chanting and yelling out "Prosecute Ahok" and "Defend Al-Quran" from the moment they arrived.
During coverage, many protesters told Mi'raj Islamic News Agency (MINA) that this rally is a part of the public calls for the law enforcement to prosecute whoever insults Al-Quran, and denied that this protest as a part of an anti-Christian act.
One popular Indonesian scholar also  expressed similar statement before the event.  "we must not let the co existence of this nation be ruined because of one person. This rally is not an anti religion act,"said  Former Chief General of Muhammadiyah Din Syamsudin.
The rally started after Jumah prayer, where people made a long march from the mosque  to the State Palace perimeters a few kilometres away.  Orators led the recitation of al-Quran the whole time the protestors waited to remind people to stay calm, and the protesters followed.
The military warned it was ready to back 18,000 police officers deployed if things turned ugly. Helicopters flew low over the city and extra soldiers were stationed at key government buildings reinforced with razor wire and armoured vehicles.
The government represented by Vice President Jusuf Kalla,  Coordinating Minister for Political, Legal and Security Affairs Wiranto and State Secretary Pratikno. At 5 pm, some of 25 demonstration coordinators met the government at State Palace to negotiate their demand.
Few hours later, the Vice President declared to the public  to wait for at least 2 weeks regarding the case, and protesters started to yelled out.  Clashes erupted while police shot teargas and protester rescued women, children in the peace rally.  The clerics who lead the peace rally also injured by the teargas and was taken to a nearby hospital.
More than 150 people were injured in the clashes between demonstrators and the police, Jakarta police spokesman Awi Setiyono said on Friday.
A 65 yeard old man Syahrie Umar Yunan died by the teargas shortly after it was fired. He was rushed to Gatot Subroto hospital and declared dead.(L/R04/NMT)
Mi'raj Islamic News Agency (MINA)