Imam Yakhsyallah: Kashmir Issue is the Duty of Humanity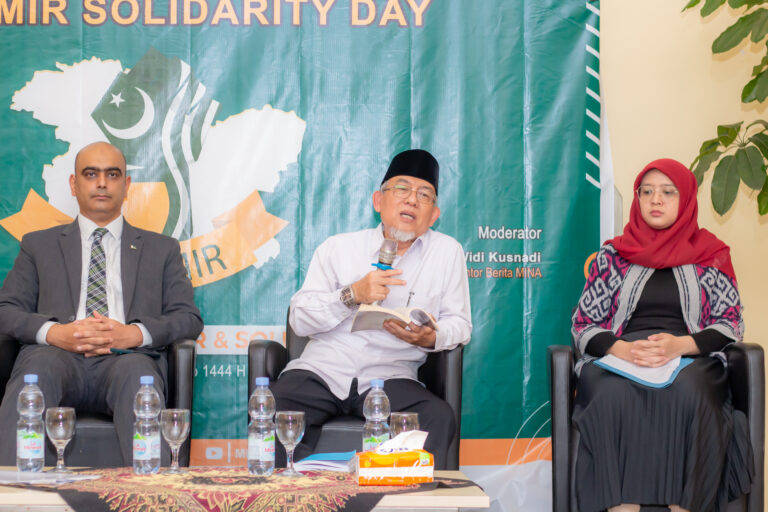 Imam Yakhsyallah: Humanitarian Duty to Care for Kashmir (photo: Abdullah/MINA)
Jakarta, MINA – Imam Yakhsyallah Mansur said that it is the duty of humanity to care about the fate of Muslims in Kashmir who are being oppressed.
"We are here because of humanity, because the Prophet really told us to think about humans," he said at the Humanitarian Discussion "The Future of Kashmir and its Solutions" at the Munif Chatib Hall, Insan Mandiri Cibubur School on Tuesday.
Imam Yakhsyallah emphasized that being a Muslim is having a desire to do good to humans, especially those who are suffering in Kashmir.
"We don't look at Muslims or non-Muslims. We have to love them," said the author of the book "Kashmir Membara dan Solusinya".
Islam came with the personification of the Prophet Muhammad to bring mercy to the universe. "Not only for Muslims," ​​he continued.
Rahmatan lil alamin is the desire to do good to other people, the universe, he continued.
Nationally, he added, this was the mandate of the 1945 Constitution's Preamble, namely realizing independence as a right of all nations.
"There is no Preamble to the Constitution in this world that is better than Indonesia's Preamble. With the grace of Allah, this shows the height of the faith of Indonesia's founding fathers," he said.
Imam Yakhsyallah also emphasized the importance of being a believer in providing benefits to as many people as possible. A believer is also a person who can connect with other people, and can be connected by other people.
"For this reason, we are here to talk about providing a solution to improve Kashmir's condition. Hopefully, what we are doing is acceptable and beneficial for Kashmir," he continued.
Furthermore, talks on the Kashmir condition need to involve various related parties, especially Pakistan and India.
He also hopes that the Indonesian government can play a more active role in resolving the Kashmir issue. Because Indonesia is quite experienced in reconciling various domestic and foreign conflicts.
He mentioned Indonesia's role in the peace settlement of the southern Philippines, Afghanistan and relying on the government, Imaam Yakhsyallah Mansur also emphasized the importance of struggle through civil society.
"God willing, many struggles will succeed through civil society struggles. With the note that the struggle is united, congregational. God willing, the problem can be solved," he said.
"We as Muslims are not only responsible for Indonesian Muslims, but also for the fate of Muslims in other places, other countries," he said.
Appearing as a speaker was the Ambassador of Pakistan to Indonesia, represented by Counselor Mr. Sibtain Afzaal, Chairperson of the Indonesian Kashmir Solidarity Forum (Dr Zahir Khan), and President of OIC Youth Indonesia (Astrid Nadya Riqita).
This Humanitarian Discussion was organized by the MINA News Agency in collaboration with STAI Al Fatah Cileungsi, Radio Silaturahim (Rasil) 720 AM, Insan Mandiri Cibubur, dan MER-C. (T/RE1)
Mi'raj News Agency (MINA)