Five Reasons Why Muslims Must Defend Palestine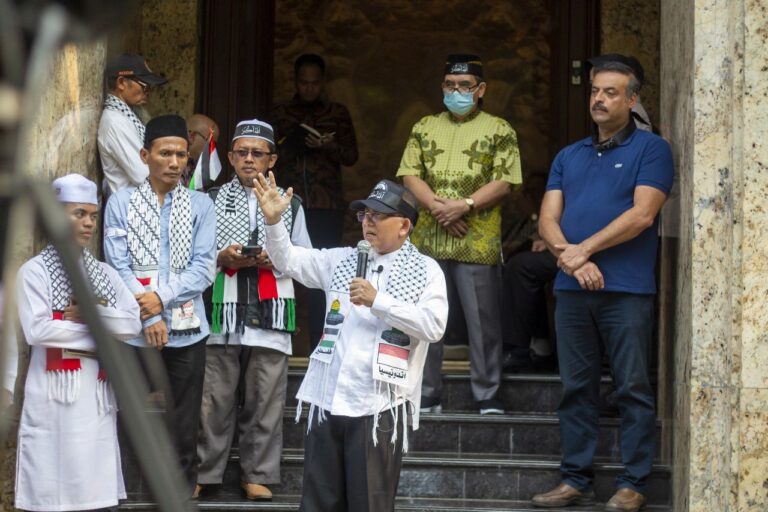 Imam Yakhsyallah Mansur (photo: Abdullah/MINA)
Jakarta, MINA – Imaam Yakhsyallah Mansur mentioned five reasons why Muslims must defend Palestine, he said at the Peace Action at the Palestinian Embassy, ​​Jakarta on Monday.
First, he said, legal reasons, based on the 1945 Constitution, which among other things stated Indonesia's goal to participate in carrying out world order based on independence, eternal peace and social justice, as well as eliminating colonialism.
Second, for humanitarian reasons, where there are people who are wronged and oppressed arbitrarily, said the Trustee of the Aqsa Working Group (AWG).
"Third, a form of appreciation and gratitude for the Indonesian people for the Palestinian people. Palestine is the first country to recognize Indonesia's independence. Then followed by other countries," he said in front of hundreds of participants in the peaceful action, which was coordinated by the Aqsa Working Group (AWG) Humanitarian Institute.
The fourth reason, he continued, is the strong and long-standing relationship between Indonesia and Palestine.
Imaam Yakhsyallah said that one of the Walisongo scholars, namely Ja'far Sodiq or Sunan Kudus, came from Palestine.
In the city where he preached, called the Holy City, taken from Al-Quds, there is a mosque named Masjid Al Aqsa in the Mount Muria area. Mount Muria was named after Mount Muria in Palestine, he continued.
"Fifth, the religious background, where in Palestine there is a mosque for our Muslims, the Aqsa Mosque, which is currently in an alarming condition, due to Judaization by destroying and making underground tunnels," he added.
"So, the struggle of Muslims in defending Palestine and the Aqsa Mosque will never stop, until Palestine is free, Allahu Akbar, Al-Aqsaha Haqquna!", he shouted followed by the demonstrators.
Present to give remarks at the Peace Action, Palestinian Ambassador to Indonesia Dr. Zuhair Al Shun, Chairman of the Foreign Relations Commission of the Indonesian Ulema Council Bunyan Saptomo, and Chair of the Presidium Medical Emergency Rescue Committee (MER-C) Dr. Sarbini Abdul Murad.
After the remarks, it was followed by the reading of Palestinian poetry by Arina Islami (student of STAI Al-Fatah Cileungsi, Bogor), Oration for Peace Action delivered by M. Ansharullah (Chair of the Presidium Aqsa Working Group / AWG), Astrid N Rizqita (President of the Indonesian OIC Youth) and Ali Farkhan Tsani (Al-Quds International Ambassador). (T/RE1)
Mi'raj News Agency (MINA)