Head of Irish Sinn Fein Pays Solidarity Visit to Official Palestinian Media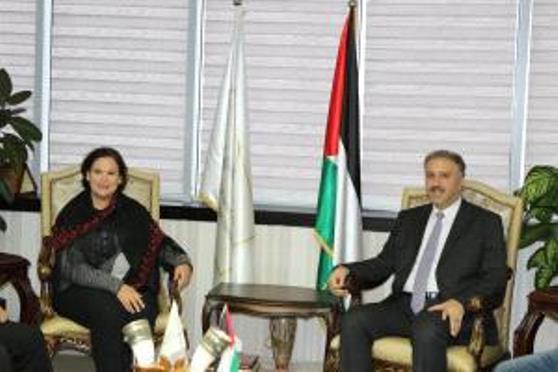 Ramallah, MINA — An Irish delegation headed by Mary Lou McDonald, leader of the Irish Sinn Fein and member of the Irish parliament, met on Thursday in Ramallah with Ahmad Assaf, General Supervisor of the official Palestinian media during which she was briefed on the Israeli attacks against the Palestinian people and media, WAFA reported.
Assaf told McDonald about the Israeli army obstruction of the work of Palestinian journalists while covering events in the occupied territories.
He said hundreds of journalists were injured one way or another during their work in the field trying to expose the crimes of the Israeli occupation.
McDonald expressed support for the Palestinian people in their pursuit of their own independent state with Jerusalem as its capital.
She said she was shocked by what she saw as a result of Israeli attacks and arrest of children, as well as Israel's collective punishment policy and land grab.
The Irish leader had earlier visited Jerusalem and met Palestinian youngsters.
She tweeted on her visit: "Here's where I was when an Taoiseach (the prime minister of the Republic of Ireland) was taking another cheap shot at me. This is Al-Esawiah Jerusalem. Two of these boys lost an eye when shot by Israeli soldiers." *T/RS5/RS1)
Mi'raj Islamic News Agency (MINA)