HAMAS: DIRECT NEGOTIATIONS WITH THE OCCUPATION IS NOT OUR POLICY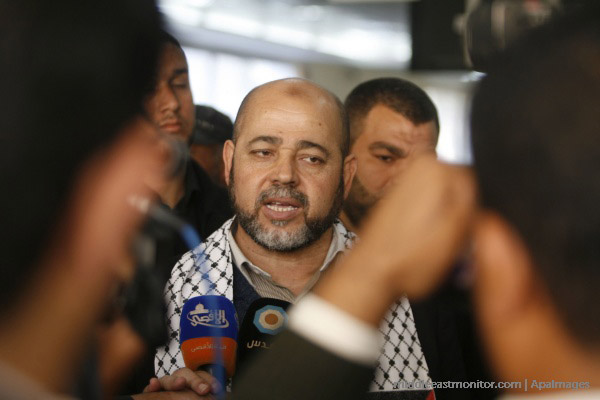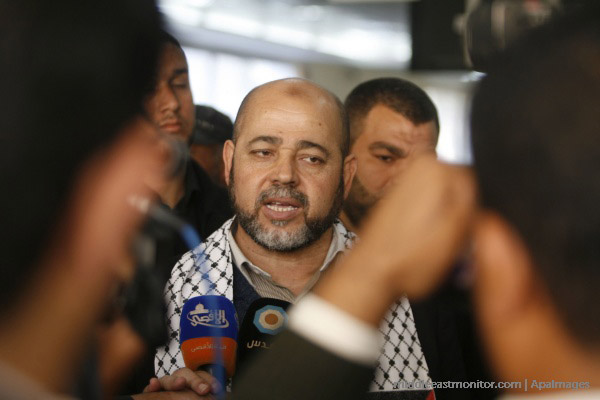 Gaza City, 18 Dzulqa'dah 1435/13 September 2014 (MINA) – The Hamas movement denied accusations that negotiating directly with Israel is one of its policies, stressing that it is not considered in the movement's deliberations, according to Middle East Monitor (MEMO) report quoted by Mi'raj Islamic News Agency (MINA).
A statement issued by Hamas yesterday stated: "Commenting on the media statements attributed to Dr Mousa Abu-Marzouk on the subject of negotiations with the occupation, the movement confirms the following: Direct negotiations with the Zionist enemy is not among the movement's policies and not on the table in deliberations; this is the policy adopted by the movement."
Media outlets quoted Abu-Marzouk, a member of Hamas' political bureau, as saying that the movement may find itself forced to negotiate with Israel directly if the situation remained the same in the Gaza Strip due to the intransigence of the Palestinian Authority and its procrastination in shouldering its responsibilities based on the last reconciliation agreement.
Hamas never change national policies
Deputy head of Hamas's political bureau Mousa Abu Marzouk said his Movement can never change its national policies or engage in negotiations with the Israeli occupation state.
"Hamas will not change its policy with regard to its refusal to recognize Israel and will not sit with it negotiating and compromising the rights of the Palestinian people," Abu Marzouk said in a press statement to the Palestinian information center (PIC).
"What do the Zionists aim when they claim there are indirect negotiations with Hamas?! And what do others want when demanding Hamas to reveal what they call 'the truth' to the Palestinian people?! The Hamas official rhetorically questioned.
"Do the Zionists want to open dialog with Hamas and the others fear that? We, however, say that neither the former's wishes and pressures, nor the latter's keenness on sharing the cake of negotiations with no one and its declared fears in this regard can make us change our policy against recognizing Israel or negotiating with it," Abu Marzouk added.
He stressed that the Palestinian people are aware that Hamas always transparently addresses important issues that concern their lives through the Egyptian side as it had done during the prisoner swap deal and the previous wars.
"Hamas has not known what was tabled in the recent meetings that took place between the Egyptian side and the Zionist side, and it was not a third party to these talks," the official affirmed.
"But we expect that our brothers in the Egyptian intelligence will tell us about that and convey our viewpoints on topics of interest, including the issues of the fishing zone in Gaza sea, the crossings and the free movement of individuals and goods, the crossings between the West Bank and Gaza, the hunger strikers, the families of exiles, the Zionists' obligations under the prisoner swap deal, the return of 18 ex-detainees to the West Bank and finally the Zionist attacks on the citizens living west of the armistice line or the separation fence along the borderline," he stated. (T/P3/R01)
Mi'raj Islamic News Agency (MINA)