Fire in Bromo National Park Area, All Access Closed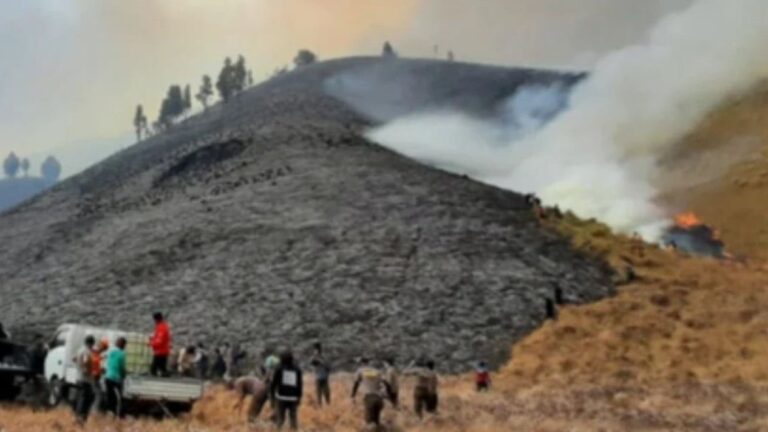 Malang, MINA – The Fire in Bromo Tengger Semeru National Park (TNBTS) area has not been extinguished and continues to spread.
The authority of TNBTS center have decided to close all access towards the national park since Sunday.
The head of administrative section of TNBTS center, Septi Eka Wardhani said, the closure had been effect since yesterday, start from 07:00 pm until undetermined time limit.
"To run the blackout process smoothly and pay attention to visitors safety, so all access to and or passing to the national park is completely closed, said Septi as quoted from Beritajatim.
According to her, the access only
will be opened for residents of Ranupani village, Lumajang regency and Ngadas village, Malang regency. For people who want to cross the Malang route to Lumajang or Malang via Poncokusumo and Senduro are advised to look for another alternative route.
"Access closures apply to all entrances, namely Coban Trisula, Malang Regency, Wonokitri, Pasuruan Regency, Cemorolawang, Probolinggo Regency, and Senduro, Lumajang Regency," said Septi.
The TNBTS Center also reminded the public, visitors and tourism service providers to protect the TNBTS area from forest fires by not lighting fires and the like, including firecrackers, fireworks and flares.
"All for the sake of safety, security and mutual comfort. "And report to officers if they find hotspots in the TNBTS area," said Septi.
It should be noted that the fire that hit TNBTS was triggered by flares used during the pre-wedding photo shoot. Sparks from flares burned the grass in the Teletubbies Park area.
Because the grass was dry due to the dry season, the fire spread quickly. What's worse, the Wedding Organizer did not immediately extinguish the fire when it was still small and at night allowed the grass to catch fire on a large scale.  (T/RE1/P2)
Mi'raj News Agency (MINA)