Erdogan Plans to Visit Indonesia Early 2020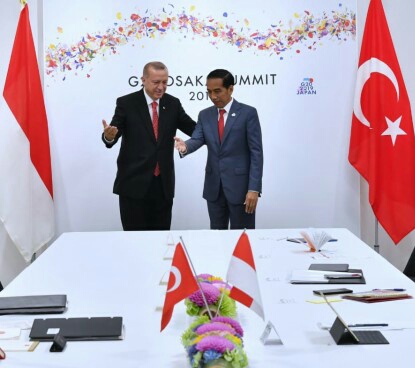 Turkish President Recep Tayyip Erdogan held a bilateral meeting with President Jokowi on the sidelines of the G-20 Summit, in Osaka, Japan, Saturday (29/6). (Photo: Presidential Decree)
Osaka, MINA – Turkish President Recep Tayyip Erdogan plans to visit Indonesia in early 2020.
According to the Setkab.go.id press release, the planned visit was one of topics discussed in bilateral meeting between President Joko Widodo and President Erdogan on the sidelines of G20 Summit in Osaka, Japan, Saturday, June 29.
It was said that next year, Indonesia-Turkey will celebrate 70 years of diplomatic relations.
The two Presidents also agreed that the trade between two countries could be multiplied. President of Turkey offered several strategic industrial cooperation.
Turkey also expressed support for Indonesia's candidacy on the UN Human Rights Council 2020-2022.
During the meeting, President Erdogan once again expressed his congratulations on the re-election of President Jokowi as President of Indonesia for the next five years.
President Erdogan is one of the Heads of State who first called President Widodo to congratulate him after the quick count results were announced.
"Thank you President Erdogan for your congratulations. All election processes are now finished, "said President Jokowi. (T/Sj/P2)
Mi'raj News Agency (MINA)