ERDOGAN: ISRAEL WILL SINK IN THE BLOOD IT SHEDS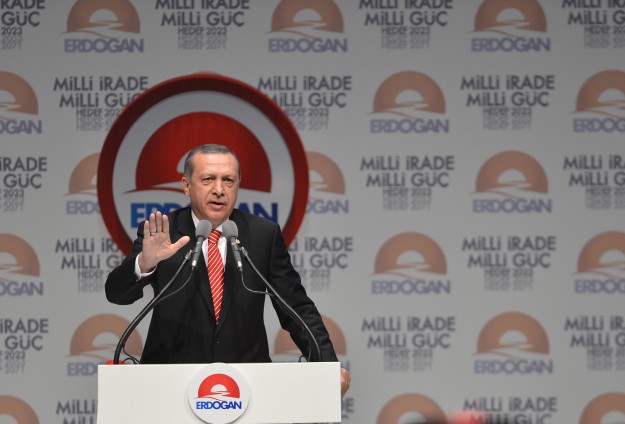 Ankara, 22 Ramadan 1435/20 July 2014 (MINA) – Turkish presidential candidate, Recep Tayyip Erdogan said on Friday (18/7) that Israel will "sink in the blood it is shedding in the Gaza Strip and all parts of Palestine sooner or later," Anadolu news agency reported.
Speaking after an Iftar gathering in the presence of Palestinian Authority President Mahmoud Abbas, Erdogan said that the Israeli occupation indiscriminately launches shells and rockets towards men, women, children, the elderly and young people in Gaza.
"A black stigma will be stamped on the forehead of those who remain silent over the oppression Israel is carrying out in Gaza," he added, Middle East Monitor (MEMO) quoted by Mi'raj Islamic News Agency (MINA) as reporting.
He said that the UN, which was established to protect the rights of strong and weak nations all over the world, is losing its legitimacy because of its silence and because the Security Council (UNSC) does not adopt serious positions.
Erdogan noted that there are no Muslim countries among the five permanent members of the UNSC, they are all Christian. All resolutions are undermined with the veto.
"Where is justice?" he asked. "Four members adopt a resolution, the fifth vetoes it and then it disappears." He continued asking Muslims: "Are you waiting for such institutions to achieve and spread justice in the world? We don't have a result on Syria; numerous issues were ended before they even started because of the UNSC."
The Turkish PM said that the UN has issued more than 100 resolutions against Israel, but none of them have been applied. "All of them remain ink on paper," he said. He added that the UN must be remodelled.
He reiterated that the UN had become complicit with Israel in its crimes, in which Israel violates basic human rights in Palestine.(T/Nidiya/E01)
Mi'raj Islamic News Agency (MINA)