Elderly Students Enthusiasm for Studying Religion at the Sepuh Putri Islamic Boarding School, Payaman Grand Mosque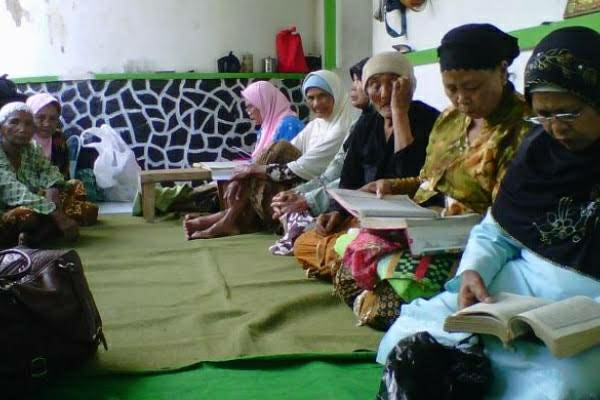 Elderly students seem to be diligent in taking lessons at the Sepuh Putri Islamic Boarding School, Payaman Grand Mosque, Secang, Magelang (Photo: Special)
Magelang, MINA – As many as 150 elderly students from various regions are enthusiastic about studying Islam at the Sepuh Putri Islamic Boarding School at the Great Mosque of Payaman, Secang, Magelang Regency, Central Java, during the month of Ramadan 1444 H.
They consist of 50 regular students and 100 special students for the month of Ramadan.
The caretaker of the Sepuh Payaman Islamic Boarding School, Kiai Mafatihul Huda in Magelang, said that even though it was only specifically for female students, because the enthusiasm of male students was also high, they still accepted male students.
"However, especially male students do not live in the hostel, but in the houses of residents around the Islamic boarding school. This year there are 40 male students out of a total of 150 students," he explained on Saturday.
Huda said, Ramadhan activities at the pesantren were carried out again after three years of no activities due to the COVID-19 pandemic.
"During the three-year pandemic, we didn't have any activities at all, because the students were all old, mostly elderly, so they were very vulnerable. Before Covid-19, every Ramadhan there were up to 400 students," he said.
The students receive lessons on interpretation, fiqh, tasawuf, hadith, and perform the midnight prayer every night. Almost every five daily prayers are followed by recitations to convey these materials.
This Sepuh Islamic Boarding School in its learning places more emphasis on calming the heart and discipline such as congregation, living together.
"So you don't have to write and then you are given a report card, but go straight to practice and examples. They are given the right example to read the Koran, they are taught the right prayers, and so on," explained Huda.
One of the students, Siti Khotijah Mashuri (68) said she wanted to study religion at this pesantren for worship. She feels happy at this Islamic boarding school because she has many friends from various regions, gains experience and gains knowledge.
"Before my husband died, he also studied at this Islamic boarding school, so I continued. It's been about 4-5 years every Ramadan studying at Pondok Sepuh," she concluded. (T/RE1)
Mi'raj News Agency (MINA)