Death Toll of Iraqi Protests Reaches 104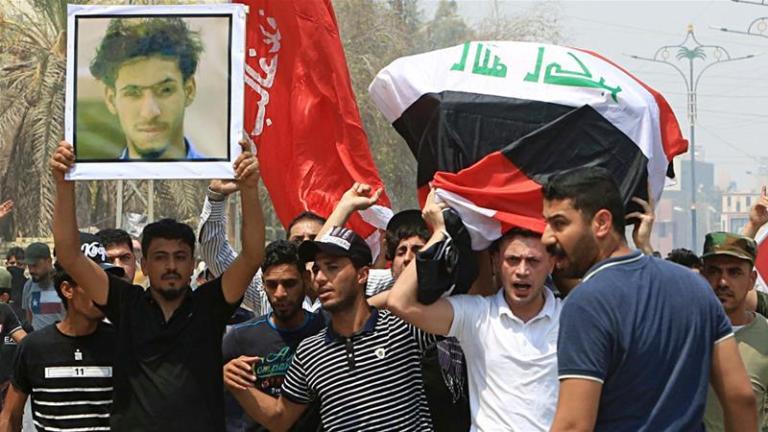 Illustration: Mourners carrying the coffin of Yasser Makki wrapped in the Iraqi flag during a demonstration, 4 September 2018. [Nabil al-Jurani / AP]
Baghdad, MINA – At least 104 people have been killed and more than 6,000 injured in less than a week of unrest in Iraq, Interior Ministry spokesman Major General Saad Maan said on Sunday on state TV.
Maan said eight members of security forces were among those killed and 51 public buildings and eight political party headquarters were set on fire by protesters.
At least 18 people were killed in clashes between anti-government demonstrators and police in Baghdad on Saturday night, according to police and medical sources, Arab News reported.
Widespread protests and riots occurred when the cabinet tried to calm public anger over cases of corruption and acute unemployment with new reform plans.
Two years after the defeat of ISIS group, security was better than in previous years, but corruption was rampant, destroyed infrastructure had not been rebuilt and jobs were still scarce.
Prime Minister Adel Abdul Mahdi's 17-point plan was the result of an emergency cabinet meeting on Saturday night and resulted after days of offering only vague promises of reform.
These include an increase in subsidized housing for the poor, benefits for the unemployed and training programs and small loan initiatives for unemployed young people.
The families of those killed in demonstrations this week will also receive payments and treatment as is usually given to members of security forces killed during the war.
Until Sunday, the streets of Capital were deserted. Protests tend to gather energy for the future. (T/Sj/p2)
Mi'raj News Agency (MINA)