Chilling Footage Captures Female Suicide Bomber Cradling Baby Moments Before She Blows Them Both Up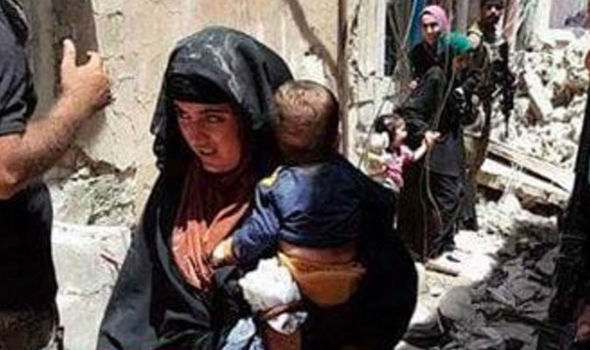 Female suicide bomber-Al Mawsleya TV.
Mosul, 16 Shawwal 1438/10 July 2017 (MINA) – Chilling footage has emerged of an ISIS suicide bomber cradling a baby in her arms seconds before she blows herself and the child up.
Initially it appeared the woman was fleeing the Iraqi city of Mosul, which has now fallen from Isis control, with her child, according to independent.co.uk.
But the video shows the woman is clutching a trigger which she detonates seconds later.
A number of civilians and two Iraqi soldiers were injured in the explosion but the woman and child were the only ones to die.
The footage was captured by an Iraqi TV station when the woman passed close to Iraqi troops as they flushed out ISIS fighters from their last remaining bolt hole in a corner of the old city by the Tigris River.
She attempted to detonate an explosives vest hidden under her clothes as she passed the soldiers, but it failed to go off immediately and exploded some distance from the troops, according to al-Mawsleya TV.
The station had been filming the battle and the camera crew did not realise what they had captured until the footage was reviewed.
More than 20 female suicide bombers hiding among civilians are believed to have detonated explosive devices in the last fortnight as the battle for control of the city reached its endgame.
In a bid to identify the suicide bombers, soldiers are ordering women on the streets to remove their niqabs, which cover everything but the eyes.
Using their own children as human shields
Known as "jihadist brides", the female supporters of ISIS usually stay at home to look after their children – but some experts believe the women are becoming more active and wish to take part in a jihad in the same way as men.
One general claimed some of the women were using their own children as human shields as it became apparent ISIS would lose control of the city.
"The women are fighting with their children right beside them," Lieutenant General Sami al-Aridi said. "It's making us hesitant to use air strikes, to advance. If it weren't for this we could be finished in just a few hours."
Zuhair al-Juburi, the leader of Mosul's city council, believes the women have decided to die rather than be arrested by the advancing Iraqi army.
He said: "One of the suicide bombers was Tunisian. She blew herself up among displaced people in the Old City."
Iraqi Prime Minister Haider al-Abadi arrived in Mosul to congratulate the armed forces for their "victory" over ISIS after nearly nine months of urban warfare, bringing an end to three years of jihadist control of the city.
The battle for Mosul – by far the largest city to fall under the militants' control – has devastated large areas, killed thousands of civilians and displaced almost a million people. (T/RS5/RS1)
Mi'raj Islamic News Agency (MINA)