AWG-MINA Builds a Synergy Ahead of the 2023 Palestine Solidarity Month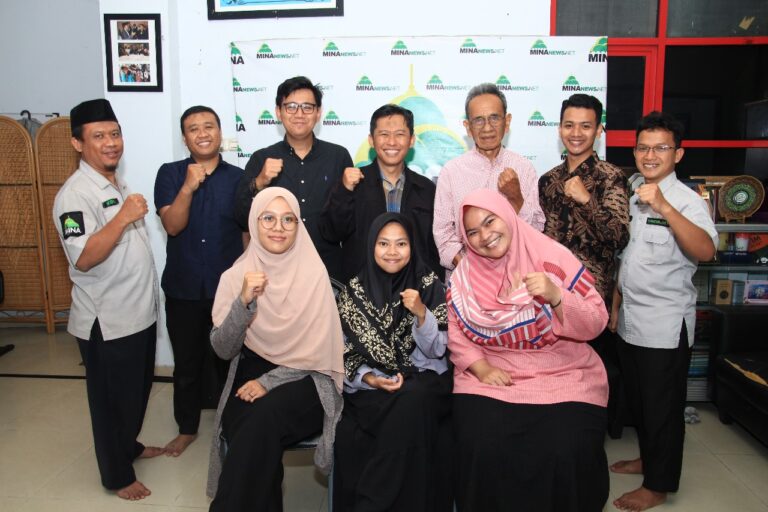 Jakarta, MINA – Ahead of Palestine Solidarity Month (BSP) which will be held in November 2023, the Aqsa Working Group (AWG) together with the MINA News Agency are starting to build synergy.
AWG members held an audience with the MINA News Agency on Thursday. The AWG audience was received by the Chief Editor of MINA, Ismet Rauf and General Leader, Arief Rahman.
"The aim of our audience with MINA, of course the first is to foster synergy, the second is to ask for direction and the third is to ask for support for the 2023 BSP succession," said the Chair of the 2023 BSP, Rifa Berliana Arifin.
Rifa said that this year's BSP is planned to be held globally by collaborating with NGOs in Southeast Asia. For this reason, he hopes that MINA as a media that is concerned with Palestine can intensify reporting on BSP 2023 activities.
Rifa said that the success of publishing news about BSP activities last year could not be separated from MINA's massive intervention in spreading news both at the national and international levels about BSP 2022 activities.
Rifa said, BSP 2023 coincides with the political year and of course the media will be flooded with various news about the 2024 Election. So this is a challenge for AWG, how to ensure that news related to BSP can still be echoed. According to him, the role of the MINA News Agency is really needed here.
MINA General Leader, Arief Rahman said, BSP activities are nothing new for MINA. Because, AWG's vision and mission are in line with MINA, namely fighting for Palestinian independence and liberating the Al-Aqsa Mosque.
"We as leaders (MINA) have also reminded us, if I'm not mistaken, three months ago, that we must prepare BSP better in terms of supporting reporting," said Arief.
He said, MINA would optimize its overseas networks to support BSP 2023 reporting.
"To strengthen the BSP program, of course there will be an agreement with the editorial team that if necessary, we can create a special column for BSP," he said.
"The (BSP) contest is only in Indonesia, but we hope it will resonate throughout the world. "So there needs to be a special strategy in reporting so that it can be better than previous years," said Arief.
In November, the Aqsa Working Group (AWG) will again hold a month-long celebration of Palestine Solidarity Month 2023, to be precise from November 1 to November 29 2023.
BSP 2023 will focus on echoing the rejection of the Israeli bill which will divide the Al-Aqsa Mosque between Muslims and Jews. This bill was proposed by Likud party member Amit Halevi, to the Israeli Parliament, Knesset. Even though according to the applicable regulations, Muslims are the only ones who have the right to the Al-Aqsa Mosque. (T/RE1/P2)
Mi'raj News Agency (MINA)