AL-QASSAM REVEALS ITS FIRST HOME-MADE SNIPER RIFFLE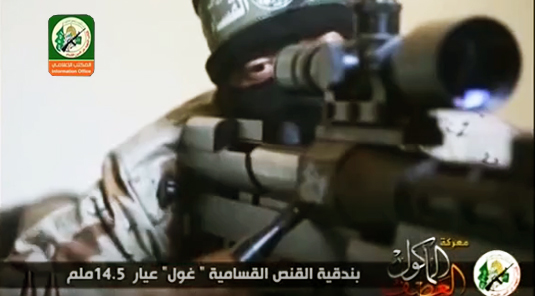 Gaza,  8 Shawwal 1435/4 August 2014 (MINA) –  Al-Qassam Brigades,  the military wing of Hamas resistance movement, revealed its first home-made 14.5-caliber sniper riffle publicly as Israeli occupation regime forces strikes against the besieged Gaza Strip entered the 28th day.
Mi'raj Islamic News Agency (MINA) Correspondent in Gaza reported, the sniper weapon with a firing range of two km is called Al-Ghoul and was made ​​by local engineers who have died in the Israeli occupation regime forces attacks a few years ago.
"Al-Ghoul was taken from the name of Adnan al-Ghoul, a prominent engineer in the Al-Qassam Brigades who martyred  in 2004," said the correspondent.
This announcement was another "surprise" from the Palestinian fighter who then now able to make various kinds of weapons in the middle of siege since 2007.  Moreover, the blockade was tightened after Rafah border closed completely by the Egyptian authorities following the ouster of president Mohammed Morsi last year.
Early July, the Al-Qassam Brigades announced the launching of the latest R160 rockets  which then reached the farthest distance of 165 km as far as Haifa unlike earlier rockets such as M75s that are only able to reach a distance around 25km.
The Initial R on the rocket refers to the figure of Abdul Aziz Al-Rantisi one of the Hamas leaders who was shot by Israeli  occupation forces in March 2004.
In mid-July, for the first time, this resistance movement revealed  also its first drone to the public after its first launch made its flight to Tel Aviv, occupied Palestinian territory.
The first drones named Ababil 1 is also made by local engineer, where for its first launching, the Al-Qassam introduced three  kind of drones they have.
First A1A model  was made to monitor as its default type. The brigade also  made A1B type which also capable of launching missiles, while the last type A1C able to explode by driving  itself to the targeted location (a Kamikaze drone).
According to Palestinian sources, there will still be "more surprises" from the Hamas fighters who are fighting for their holy home land, Palestine.(L/K01/P03/E01)
Mi'raj Islamic News Agency (MINA)