50 Years on, Tens of Thousands of Palestinians Detained for Political Protest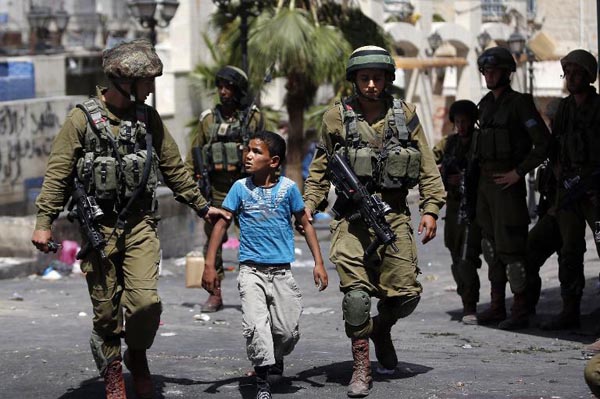 Israeli soldiers arrest a young Palestinian boy following clashes in the occupied West Bank town of al-Khalil (Hebron).
Gaza, MINA – Sunday marked 50 years since the Israeli government issued Military Order 101, a "draconian law" that has been used to suppress Palestinian political expression in the occupied West Bank for decades, Amnesty International said in a statement marking the anniversary.
Unless given prior authorization from an Israeli military commander, Palestinians in the West Bank are not allowed to attend or organize a procession, assembly, or vigil of 10 or more people for a political purpose — including an event or where a political speech is being made, "or for a matter that may be construed as political, or even to discuss such a subject," according to the human rights NGO.
Using this order, Israeli authorities have, over the past five decades, arrested and detained hundreds of thousands of Palestinians — including women and children — simply for attending peaceful protests that were deemed by Israeli forces to be political, MEMO reported.
Amnesty International highlighted the cases of Issa Amro, founder of the Hebron-based group Youth Against Settlements, and Hebron-based lawyer Farid al-Atrash, who is the head of the southern division of Palestinian statutory watchdog Independent Commission of Human Rights, who were both arrested for participating in a peaceful protest in February 2016, as an example of the order in effect.
The two are facing a number of charges, one of which is "participation in a march without a permit," which Amnesty International noted is not an internationally recognized criminal offence.
"The right to freedom of peaceful assembly, along with the rights to freedom of expression and association, are enshrined in human rights treaties to which Israel is a party, including the International Covenant on Civil and Political Rights," the statement said.
Additionally, Military Order 101 bans the display of flags or emblems, and the publication of any document or image with politically significant content, without a permit from an Israeli military commander.
"Over the last 50 years, Palestinians have been arrested and detained for displaying a poster in a room, if it was deemed political, and for raising the Palestinian flag," the statement said, highlighting that one of the charges against Issa Amro relates to him attending a protest while wearing a T-shirt with "I have a dream" written on it, and waving the Palestinian flag.
"Verbal or other expressions of support or sympathy for the activities and aims of any organization deemed illegal under military orders is prohibited," the statement said, noting that under Israeli law, this includes many Palestinian political parties and student unions.
"Supporting a political party or a student or trade union that Israel deems to be a 'hostile organization,' by waving a flag, singing a hymn, or chanting a slogan in a public place, can get you arrested under Military Order 101," Amnesty International said.
"In some cases, arrest and detention are accompanied by torture and other ill-treatment. Palestinians from all walks of life, including journalists, students, teachers, farmers, politicians, and drivers, have been affected by this order."
Additionally, anyone breaching Military Order 101 can face imprisonment for up to 10 years and/or a hefty fine, the statement said, adding that virtually all cases of Palestinians brought before Israeli military courts end in convictions.
"Most convictions are the result of plea bargains. This is because Palestinian defendants know the entire system is so unfair that if they go on trial, they will be convicted and given a longer sentence."
In April, Palestinian rights groups released a joint report saying that Israeli authorities have detained approximately one million Palestinians since the establishment of the state of Israel in 1948 and the subsequent occupation of the West Bank, including East Jerusalem, and the Gaza Strip in 1967.
The report added that since October 2015, when a wave of political unrest erupted across the occupied Palestinian territory and Israel in what many locals refer to as the "Al-Quds (Jerusalem) Intifada," some 10,000 Palestinians have been detained by Israeli forces, the majority of whom were from occupied East Jerusalem.
Israeli raids in Palestinian towns, villages, and refugee camps are a daily occurrence in the West Bank and East Jerusalem, with a biweekly average of 85 search and detention raids carried thus far in 2017, according to UN documentation.
According to prisoners' rights group Addameer, 6,128 Palestinians were detained by Israel as of July, 320 of whom were children. The group has estimated that some 40 percent of Palestinian men will be detained by Israel at some point in their lives.(T/R04/RS5)
Mi'raj News Agency (MINA)