33 Islamophobic groups funded with over $205 million in 5 years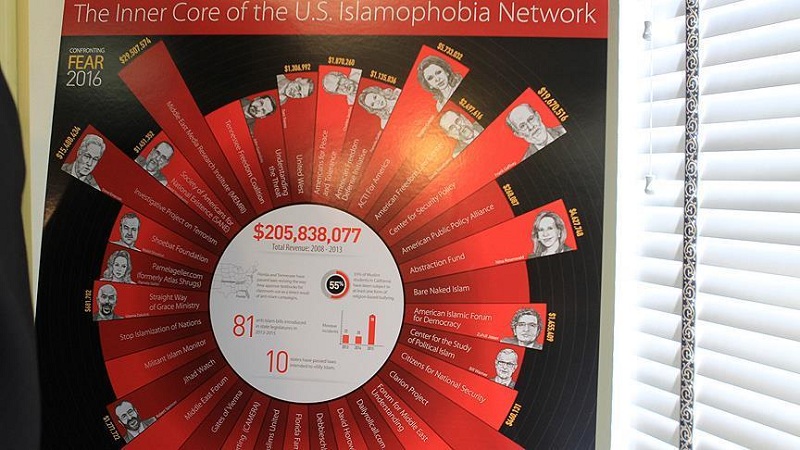 Washington, 17 Ramadan/22 June 2016 (MINA) – Nearly $206 million poured into organizations promoting Islamophobia in the United States in 2008-2013, a report released Monday revealed.
Released by the Council on American-Islamic Relations (CAIR) and the Center for Race and Gender at University of California Berkeley, the report titled "Confronting Fear" lists 33 Islamophobic organizations as the inner-core groups funded with at least $205,838,077 in total revenue as they "promote prejudice against and hatred of Islam and Muslims."
The core group, which includes the Abstraction Fund, Clarion Project, David Horowitz Freedom Center, Middle East Forum, American Freedom Law Center, Center for Security Policy, Investigative Project on Terrorism, Jihad Watch and Act! for America, the report said.
Corey Saylor, author of the report and director of Cair's department to monitor and combat Islamophobia, said: "The hate that these groups are funding and inciting is having real consequences like attacks on mosques all over the country and new laws discriminating against Muslims in America."
Saylor added that the Washington-based Center for Security Policy and Act! for America have the most impact, because they are trying to push their anti-Muslim rhetoric beyond their formerly fringe following.
The report, published by Anadolu Agency, also documents anti-Islam bills signed into law in 10 states while 81 bills and amendments were introduced between 2013 and 2015 and nearly all of them were introduced solely by Republicans.
In 2015, the report found 78 recorded incidents targeting Muslims, compared to 22 in 2013 and 20 in 2014. "In both November and December of 2015, there were 17 mosque incidents reported during each of these months, numbers almost equivalent to an entire year's worth of reports from the previous two years," the report read, referring to the two months in which terror attacks occurred in Paris and San Bernardino, California.
The report did not disclose the actors that provided the funds. (T/R05/R07)
Mi'raj Islamic News Agency (MINA)