200 CHILDREN DEMAND THE RELEASE OF HUNGER STRIKERS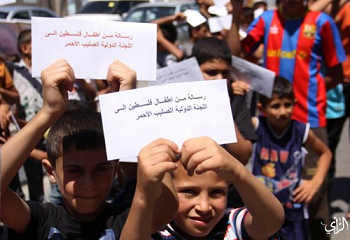 Gaza, 21 Sha'ban 1435/19 June 2014 (MINA)-  Over two hundred children gathered in front the International Committee of the Red Cross office in Gaza to demand the release of Palestinian prisoners on hunger strikers, Wednesday (18/6).
The children coming from all over the Gaza Strip arrived to the place at 11:00 pm, where the ICRC envoy received their appeal messages, ALRAY, Pelestinian Media Agency qouted by Mi'raj Islamic News Agency (MINA) as reporting.
Coordinator of the event, organized by the Waed Society for Detainees and Ex-Detainees, told Al Ray that the event comes to prove how the prisoners' issue is the beat of all Palestinians, including the children.
They aim to nudge all those with a live consciousness to do something for the Palestinian prisoners, especially those under administrative detention, he said.
As part of the event, scouts have carried placards that read "We Will Better Go Hungery than Kneel", "In Solidarity with Hunger-Striking Prisoners", "Salt_and_Water".
Previously, more than 120 Palestinian prisoners on hunger strike since 24 April open protest of "administrative detention" of Israel, which imprison without trial or charges, and allow Israel to imprison Palestinians for six months. Restraining order may be extended for an indefinite period.
More than 5,000 Palestinians were reportedly detained in Israeli jails, nearly 200 of them under administrative detention orders.(T/Nidiya/E01)
Mi'raj ISlamic News Agency (MINA)